SSE Renewables Bids for Wind Farm Area Offshore Poland, Partners with Acciona
Scotland's SSE Renewables has submitted an application for an Offshore Location License (OLL) for the allocation of development rights for an offshore wind farm at site 60.E.4 in the Baltic Sea in Poland.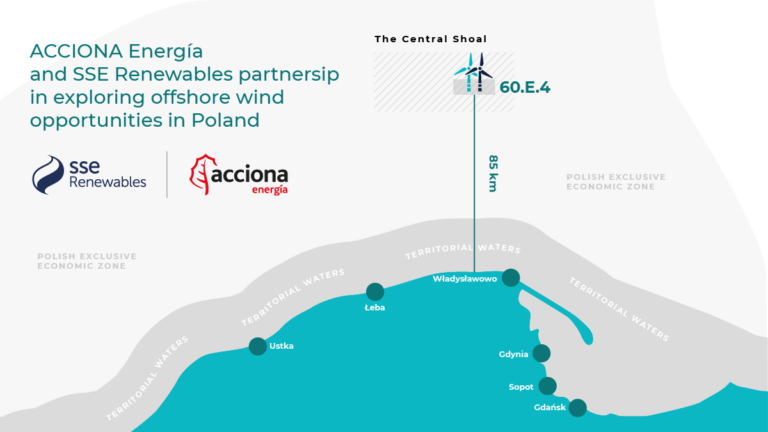 Spain's Acciona Energía will collaborate in the development of the project if the license is granted.
The 60.E.4 site is located 85 kilometres from Poland's shore, in water depths up to 58 meters.
This decision follows the announcement last year that both companies were exploring offshore wind opportunities in Poland as the country seeks to achieve up to 5.9 GW of offshore wind energy installed by 2030.
"We've decided to apply to the 60.E.4 zone because we believe we are uniquely positioned to unlock the full potential of this high-value, high-complexity site. This site has excellent wind resource, but that comes with some challenges, such as the distance to shore and relatively deep water," said Simon Redfern, SSE Renewables Bid Director.
"By leveraging the combined experience and capabilities of SSE Renewables and ACCIONA Energía, we can be trusted to develop safe, on-time and on-budget offshore wind projects in Poland."
SSE Renewables is currently building more offshore wind capacity than any other company in the world and it has a track record of developing projects in challenging environments on time and on budget, the energy company said.
Acciona Energía is said to bring extensive experience in all renewable energy technologies such as green hydrogen, batteries, and floating solar plants. Additionally, it combines its technical capabilities with a deep knowledge of the Polish market, given its long-established presence in Poland, SSE Renewables said.
Acciona Energía's sister company Mostostal Warszawa, which brings onshore construction experience and ACCIONA's gravity-based foundation technology for offshore wind farms, are expected to ensure technology and construction expertise is utilised to maximise local content over and above the Sector Deal targets. Both companies are signatories to the Polish Offshore Wind Sector Deal.
"ACCIONA Energía has been part of the Polish energy transition for over 15 years, and this opportunity will allow us to ramp up our contribution to the decarbonization of the Polish economy, reducing the country's demand for electricity imports and accelerating energy security in Poland," said Andrzej Konarowski, ACCIONA Energía's Country Director for Poland.
Follow offshoreWIND.biz on: