TenneT Says Damage to Hollandse Kust Zuid Beta Jacket 'Limited', Topside Installation a Go
The installation of the Hollandse Kust Zuid Beta offshore substation topside will not be affected by the damage the substation's jacket foundation suffered in a recent collision with a cargo ship, TenneT said.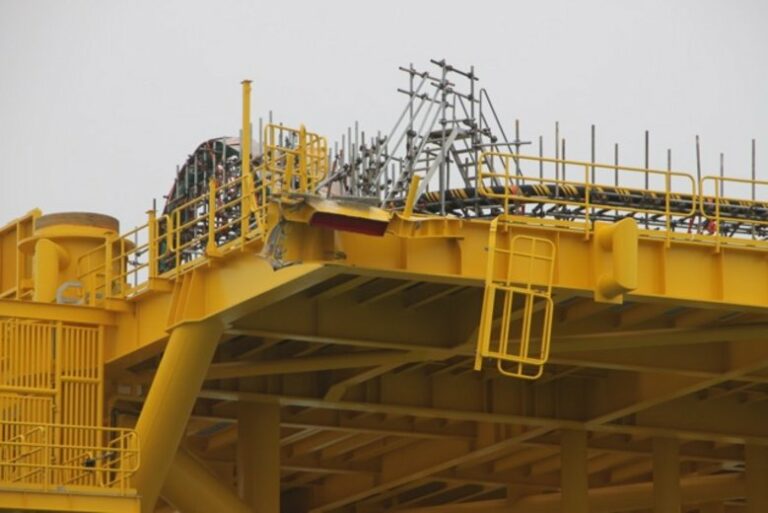 As reported, the cargo ship Julietta D collided with the substation jacket and a turbine foundation at the Hollandse Kust Zuid wind farm in the Dutch North Sea at the end of January when the vessel became unmoored during the Storm Corrie and was swept towards the wind farm.
TenneT has since carried out several surveys of the damaged jacket, both above water and under water, which have shown "…that the damage to the jacket of the platform is limited…" and that "…the damaged parts of the jacket can be repaired at a later date."
"The investigation now shows that the damage is limited to paint damage and some dents on one of the legs of the platform and damage to one of the four landing platforms for work ships," TenneT said
TenneT expects the Hollandse Kust (Zuid) Beta topside to be installed at the end of March or early April.
The 700 MW topside set sail from the Drydocks World Dubai's fabrication facility in the United Arab Emirates on 21 February.
The High Voltage Alternating Current (HVAC) offshore transformer station is being delivered to TenneT by Petrofac, who also delivered the Hollandse Kust Zuid Alpha substation in cooperation with Drydocks World Dubai.
Hollandse Kust Zuid Alpha has been in place at its designated location offshore the Netherlands since December 2021.
The jacket foundation for the HKZ Beta platform was installed at the site in June 2021.
The offshore platform will form part of the Hollandse Kust Zuid (HKZ) grid connection that links the offshore wind farm zone to the Dutch mainland at the Maasvlakte.
Located 20 kilometers off the Dutch province of Zuid-Holland, the wind farm zone occupies an area of 235.8 square kilometres, where Vattenfall is building four wind farms as part of the HKZ project.
Once fully operational in 2023, the 1.5 GW Hollandse Kust Zuid will become the largest operating offshore wind farm in the world. Comprising 140 Siemens Gamesa 11 MW wind turbines, the subsidy-free wind farm will generate enough electricity to meet the annual needs of more than two million households.
Follow offshoreWIND.biz on: