First Monopile Installed at Kaskasi Offshore Wind Farm
[CORRECTION NOTE: This article was amended after offshoreWIND.biz received information that the installation of the monopile has been changed.]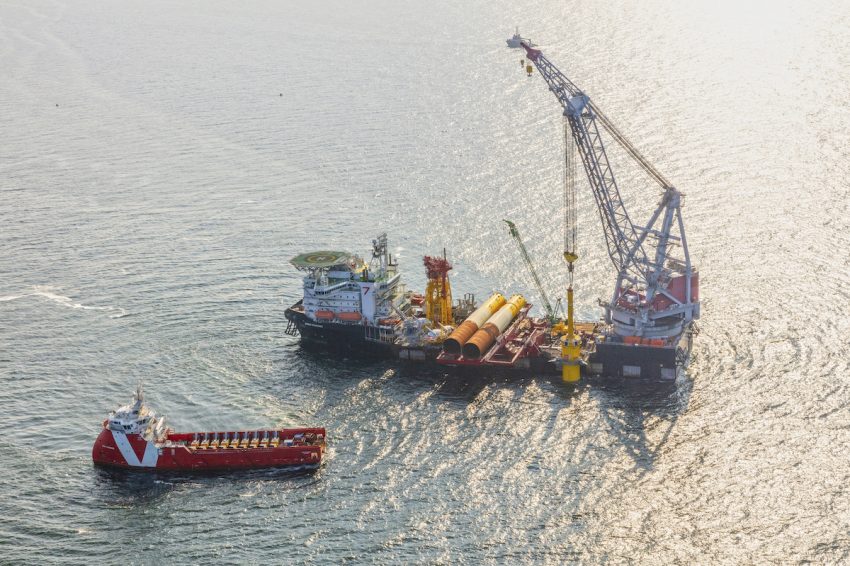 Seaway 7 has installed the first monopile at the Kaskasi offshore wind farm site in Germany, according to information on social media.
The installation work is being carried out by the Seaway Strashnov vessel and, according to information posted on social media from the team working at the site, this is the first time a monopile was installed using dynamic positioning on a commercial project, a method Seaway 7 was developing over the past few years.
The company is responsible for the transport and installation of foundations using a new installation method, the so called "vibro pile driving", under a contract between the developer, RWE, and Subsea 7, Seaway 7's parent company.
Three of the wind farm's monopiles will be the so-called 'collared monopiles', designed based on an RWE patent, which involves installing collars around monopile foundations at seabed level.
DEME, which is responsible of installing the collars on these three monopiles, is currently mobilising its jack-up vessel Neptune as well as the Blue Tern jack-up, chartered from Fred. Olsen Windcarrier, to perform the work under a contract with RWE.
The scope of work for DEME includes the installation of the majority of the 39 monopiles and all the transition pieces, turbines and inter-array cables.
The 342 MW Kaskasi offshore wind farm, also known as Kaskasi II, is located in the German North Sea, 35 kilometres north of the island of Heligoland.
The wind farm will comprise 38 Siemens Gamesa wind turbines, each with an output of up to 9 MW, which are expected to be put into operation by the end of this year.
Follow offshoreWIND.biz on: