Wärtsilä will supply seven thrusters for the wind turbine installation vessel (WTIV) currently being built at the Daewoo Shipbuilding and Marine Engineering (DSME) yard in South Korea for Eneti.
The six WST-32 thrusters and one WTT-36 thruster are scheduled for delivery during the first quarter of 2023, and the order placed with Wärtsilä in October also includes an option for a second vessel.
According to the manufacturer, all seven thrusters comply with applicable environmental regulations with the use of Environmentally Acceptable Lubricants (EAL), with the WST-32 thrusters also fitted with a modern electric steering system for a lower lifecycle cost, high reliability, and reduced energy consumption.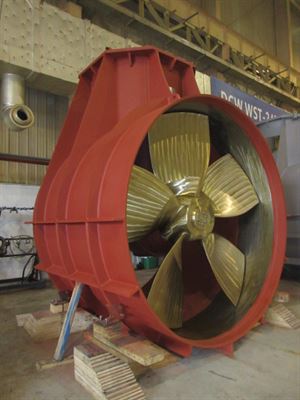 The new WTIV, capable of installing 20 MW offshore wind turbines, is of the NG-16000X design by GustoMSC, a subsidiary of NOV, and is an optimized, self-propelled turbine installation jack-up vessel that features increased carrying capacity and lifting capacity, as well as a higher lifting height above the deck, according to NOV.
Eneti, formerly Scorpio Bulkers, signed a shipbuilding contract for the vessel with Daewoo Shipbuilding and Marine Engineering in May of this year, with an option to construct an additional vessel at the same price (USD 330 million) which Eneti exercised at the beginning of this month.
The first WTIV will be delivered in the third quarter of 2024 and the second vessel is expected to be ready for service in the second quarter of 2025.
Following the delivery of the second of the two newbuilds, Eneti will own and operate a fleet of seven WTIVs, after the company took over Seajacks in August, together with its fleet of five wind turbine installation vessels.
Eneti said earlier that it was also in talks with certain American shipbuilders to build a Jones Act-compliant WTIV for the US market.