Dogger Bank Vessel Fleet Starts Taking Shape
North Star Renewables, VARD, and Alicat have held steel cutting ceremonies to mark the start of construction of three service operation vessels (SOVs) and the associated daughter craft bound for the Dogger Bank Wind Farm offshore the UK.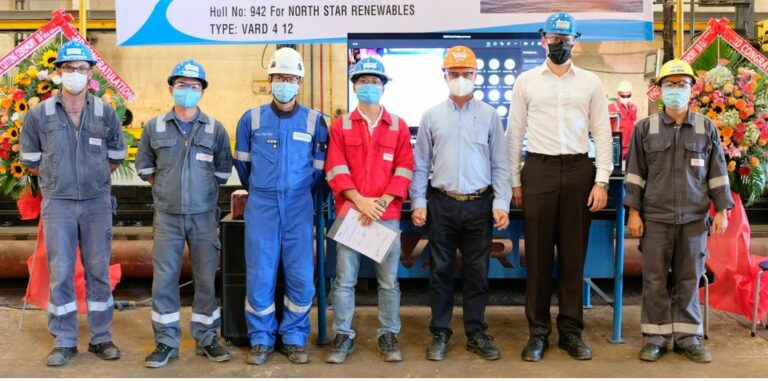 The hybrid-powered vessel fleet is specifically designed to support the UK's growing offshore wind market and will service the first two phases of the 3.6 GW Dogger Bank, North Star Renewables said.
More than 130 new recruits will be taken on locally by North Star Renewables to support the first ship being delivered from summer 2023.
The SOV steel cutting ceremony was carried out by North Star's shipbuilding partner VARD in Vietnam and was also attended by the North Star Build supervision, and live-streamed to the firm and Dogger Bank VIP representatives.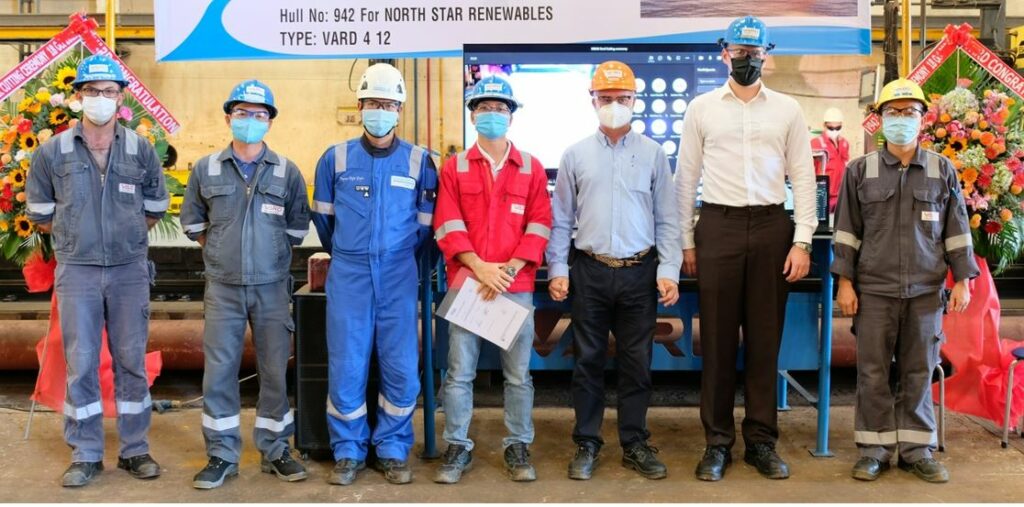 It is one of two sister 5,000-tonne vessels being built to accommodate up to 40 technicians working on the wind farm's offshore wind turbines at Dogger Bank A and Dogger Bank B. A third 6,000-tonne SOV, which features a helideck and space for up to 50 personnel, will also be delivered to the development's partners SSE Renewables, Equinor, and Eni. The trio of vessels are chartered for 10-year terms with additional one-year options.
Simultaneously this week, work got underway on building what will be the world's first hybrid-powered daughter craft for the offshore wind market, as the aluminium-cutting commenced at Alicat's shipyard in Great Yarmouth, UK.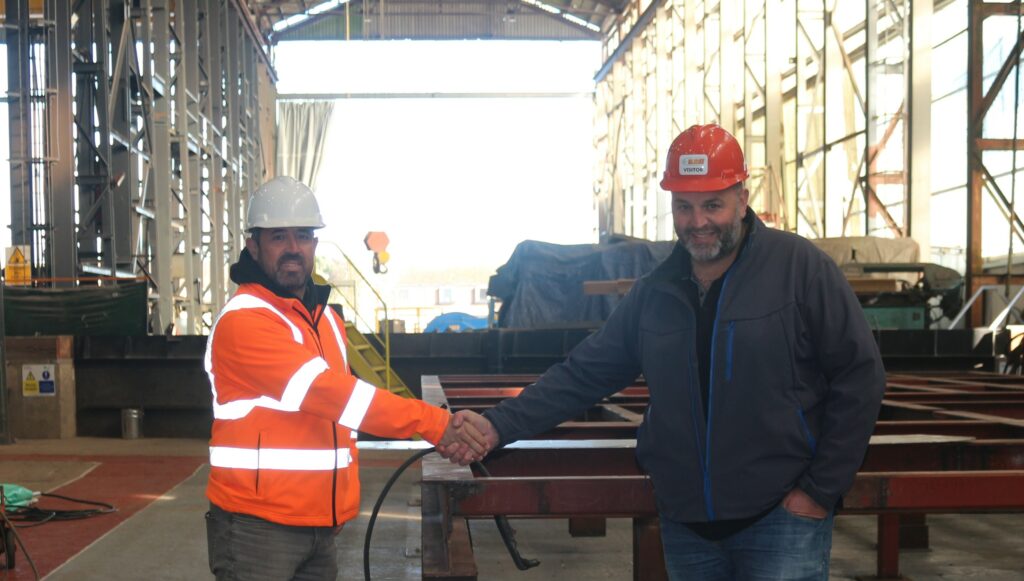 Designed by Southampton-based naval architects Chartwell Marine in collaboration with North Star, the craft will be used to transfer technicians from the SOVs to work on the wind turbines benefitting from Chartwell's unique AFS bow fender and other stability technology. The craft will also be on emergency rescue support standby.
"It's always a very exciting moment to see the first cut of the aluminium achieved on a newbuild project, but to be involved in a first for the offshore wind industry has really upped the ante," Alicat director Simon Coote said.
"We are very proud to be part of this journey with North Star and its design partner Chartwell Marine, helping to put their innovative daughter craft fleet design on the map with the UK renewables sector and internationally. There is a wealth of industry talent on Dogger Bank's doorstep and it's great to be recognised for having the necessary skills and facilities to deliver a project of this size."
The construction of North Star's renewables fleet is being project managed entirely in-house. North Star's Lowestoft based team will oversee the daughter craft build with Alicat. North Star has also taken on build superintendent Fernando Barerras in Vietnam to support the SOV construction. They will report directly into the firm's Aberdeen and Newcastle offices.
"It's been exhilarating to see construction beginning on our first renewables fleet at both locations, demonstrating we are fully on track for delivering the six vessels on schedule despite the global pandemic," North Star CEO Matthew Gordon said.
"This is just the start of our journey in renewables. Not only do we have the capital in place we also have the experience and capabilities within our organisation to deliver and operate numerous offshore wind vessel fleets simultaneously. It's our overarching objective we have planned to secure at least 15 renewable fleet contracts within the next five years; and our business is ready to do so."
North Star's SOV design has been developed to support good manoeuvrability for planned operations and maintenance work, North Star said. The features are said to include industry-proven gangways and cranes, Voith Schneider propulsion, and medium speed hybrid propulsion package to improve operational efficiency and reduce environmental footprint. The design has also ensured technician and client comfort to meet V1 and C1 industry standard classifications.
Rune Rønvik, prepare for operations manager for Dogger Bank, said: "We are building Dogger Bank with focus on innovation and sustainability, and the vessels supplied by North Star and Alicat are great examples of both. First steel cut is a great milestone on the path to have the first SOV delivered at the Port of Tyne in 2023, from where we will run the operations for the world's biggest offshore wind farm."
In September, North Star finalised a GBP 96 million funding package to build its first renewables vessel fleet with a secured loan from multi-national financial services organisation Allianz Global Investors. This supplemented North Star's own balance sheet and equity commitments from its 100 per cent shareholder, Basalt Infrastructure Partners.
General manager for the offshore and specialised vessels business area at VARD, Fredrik Mordal Hessen said: "The steel cutting ceremony for the first of the three vessels under construction at VARD for North Star is an important milestone. Together, we have developed future-oriented vessels with a high focus on workability, comfort, safety and sustainability. Now we have started the exciting shipbuilding phase, and we are looking forward to continuing the excellent teamwork to build the innovative vessels for the Dogger Bank Wind Farm."
Located more than 130 kilometers off the Yorkshire coast, the 3.6 GW Dogger Bank is divided into three 1.2 GW phases: Dogger Bank A, Dogger Bank B, and Dogger Bank C.  
Phases A and B are planned to be operational by 2024, and phase C will follow later with the operation date scheduled for 2026. 
The project is owned by Equinor (40 per cent), SSE Renewables (40 per cent), and Eni (20 per cent). SSE Renewables is leading on the construction of the wind farm and Equinor will operate the wind farm for its lifetime of up to 35 years.