Saint-Nazaire OSS Jacket In Position
The jacket foundation for the Saint-Nazaire offshore substation was installed off the coast of the Guérande peninsula in France over the weekend, DEME Group said.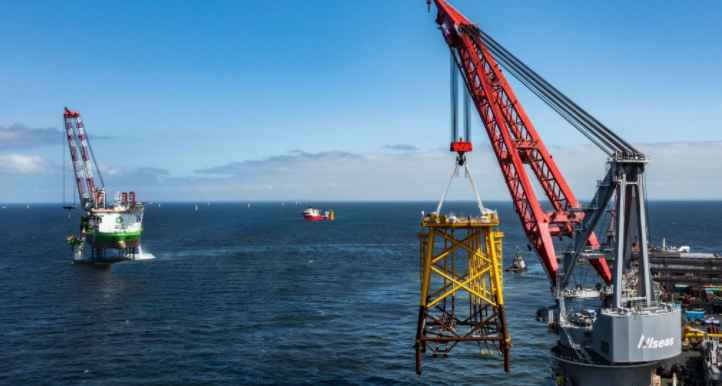 The 48-metre jacket will be held in place by four foundation piles installed in April 2021 by DEME Offshore using an in-house designed subsea template and tailor-made drilling equipment.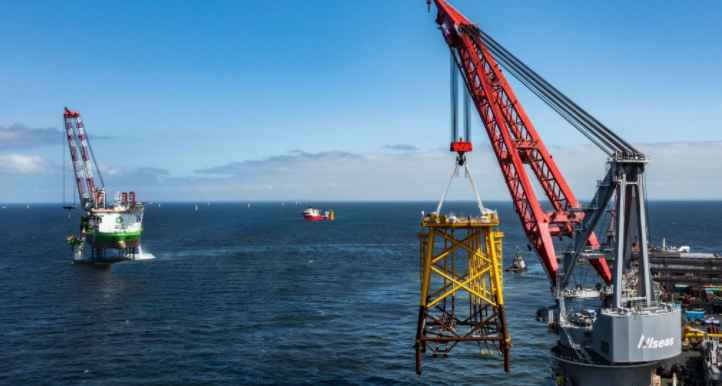 The expertise gained in this project will be implemented for the installation of the pile foundations for the Fécamp and Courseulles offshore substations, DEME said.
A consortium of SDI/DEME Offshore, Atlantique Offshore Energy and GE Grid Solutions was awarded the EPCI contract for the Saint-Nazaire substation.
DEME Offshore chartered the heavy-lift construction vessel, Pioneering Spirit, for the transport and installation of the jacket and the topside.
The topside is expected to leave the Nantes Saint-Nazaire Port and head to the installation site this week.
DEME's jack-up vessel Innovation is also busy at the site with the installation of the XL wind turbine monopiles deploying the offshore foundation drill jointly developed with Herrenknecht AG.
The 480 MW Saint-Nazaire wind farm is located between 12 and 20 kilometres off the coast of the Guérande peninsula and will comprise 80 GE Haliade 150-6MW turbines scheduled for full commissioning in 2022.
The wind farm, also known as Parc du Banc de Guérande, is being developed by Eolien Maritime France (EMF), a consortium of EDF Renouvelables, Enbridge, and Canada Pension Plan Investment Board.