New Intertidal Wind Project in the Making in Vietnam
China Gezhouba Group Co. (CGGC) International and Vietnam Construction and Trading Corporation signed an EPC contract for the 350 MW Ca Mau 1 offshore wind project in Vietnam on 11 November.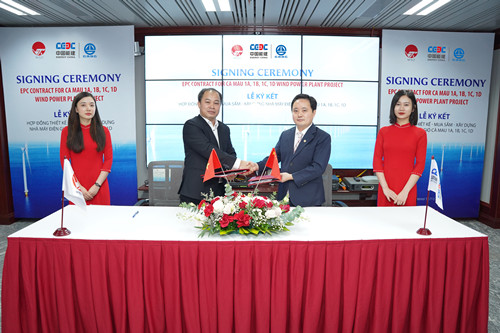 The project is located in the tidal flat area of Sanjiang Dongshe in Nangen County, Ca Mau Province. The total installed capacity will be divided into four wind farms: A, B, C, and D.
The EPC contract for the 350 MW project, which is the first large-scale intertidal wind power project signed by CGGC in Southeast Asia, includes the design, equipment supply, civil construction, installation and commissioning.
The Ca Mau No. 1 wind farm is currently the largest intertidal wind power project in Vietnam, according to CGGC.
Once operational, the wind farm will add about 1.1 billion kWh of new power generation each year, save about 450,000 tonnes of standard coal, reduce about 880,000 tonnes of carbon dioxide emissions, and significantly improve the current power shortage in the region and the entire southern region of Vietnam, CGGC said.
The construction and operation of the project will also create a number of local employment opportunities, promote local socio-economic development, and inject strong vitality into the Vietnamese economy, the company stated.
So far, there are several intertidal wind farms being developed in the country, mostly with an installed capacity of around 50 MW.
In the Ca Mau province, the 75 MW Tan Thuan nearshore wind farm is currently under construction.