F.lli Righini Starts Delivering Neart na Gaoithe Hardware
Ravenna-based F.lli Righini Srl has started shipping out jacket pile grippers built for the Neart na Gaoithe wind project offshore Scotland.
F.lli Righini Srl has been contracted to design, fabricate, and test 168 jacket pile grippers for the 450 MW project owned by EDF Renewables and ESB.
Located some 15 kilometres off the Fife coast, Neart na Gaoithe will comprise 54 Siemens Gamesa 8 MW wind turbines and two offshore substations installed on three-legged jacket foundations.
The boarding operations of about 40 jacket pile grippers have been completed earlier this month at the Terminal Container Ravenna, the embarkation port for the hardware, Contship Italia Group said.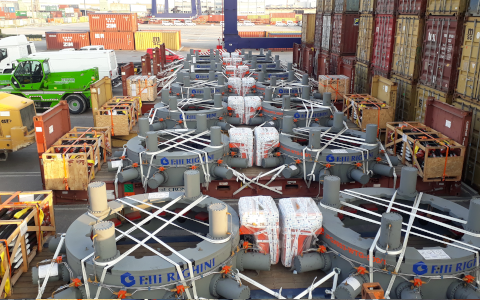 "This project is very important to us as it allows us to increasingly affirm our presence on the Offshore Wind market, a rapidly developing sector," F.lli Righini said.
"The Port of Ravenna is crucial for us as a shipping point for our products destined for international markets. In fact, the Port of Ravenna allows us to have a significant strategic and logistical advantage and the efficiency and professionalism of the Terminal Container Ravenna represents for us an added value for our competitiveness on international markets."
Neart na Gaoithe entered the offshore construction phase in August. EDF Renewables selected Saipem as the EPCI contractor for the jacket foundations and the transportation and installation of the substation topsides.
The wind farm is scheduled to be operational in 2023.