Fécamp Offshore Wind Farm Enters Construction Stage
The consortium comprising EDF Renewables, Enbridge, and wpd has launched the construction of the Fécamp offshore wind farm in France, following the finalisation of agreements with its financial partners.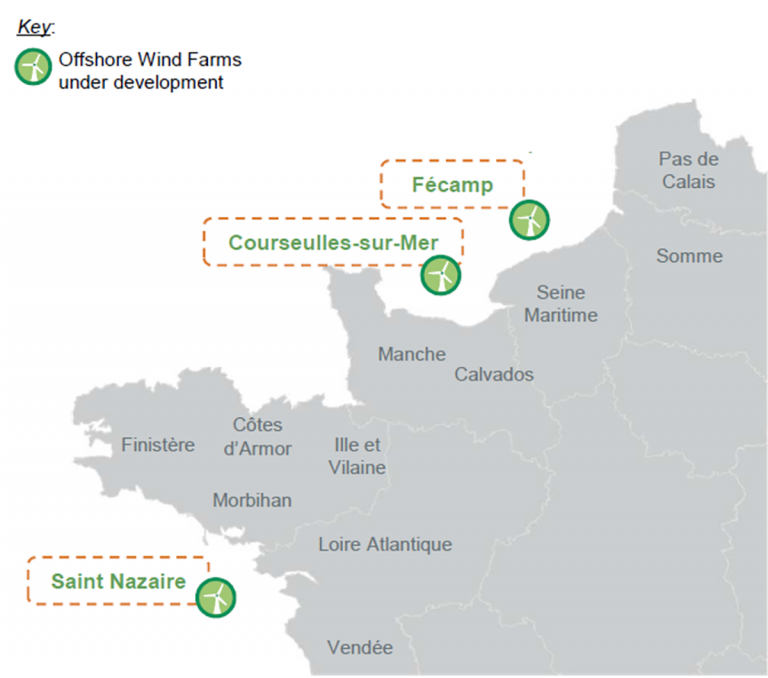 French transmission system operator RTE will start onshore construction works this month. RTE is responsible for connecting the wind farm from the substation to the coast, and then to Normandy's electricity grid.
The total project capital cost is estimated to be EUR 2 billion, of which the majority will be financed through non-recourse project level debt, the consortium said in a press release issued on 2 June.
The construction of the Fécamp project will create over 1,400 local jobs and the wind farm's 25-year service life will create approximately 100 local ongoing full-time jobs.
The 500 MW offshore wind farm, to be built at a site between 13 kilometres and 22 kilometres off the coast of northwest France, will have 71 wind turbines, scheduled for commissioning in 2023.
The power generated by the wind farm will provide enough annual electricity to meet the power needs for 770,000 people.
The Fécamp offshore wind farm has a 20-year power purchase agreement (PPA) granted by the state in June 2018.