Three Injured after CTV Hits Wind Turbine at German Offshore Wind Farm
Three persons were injured, one seriously, after a crew transfer vessel (CTV) allided with a wind turbine at the Borkum Riffgrund 1 offshore wind farm in the German North Sea.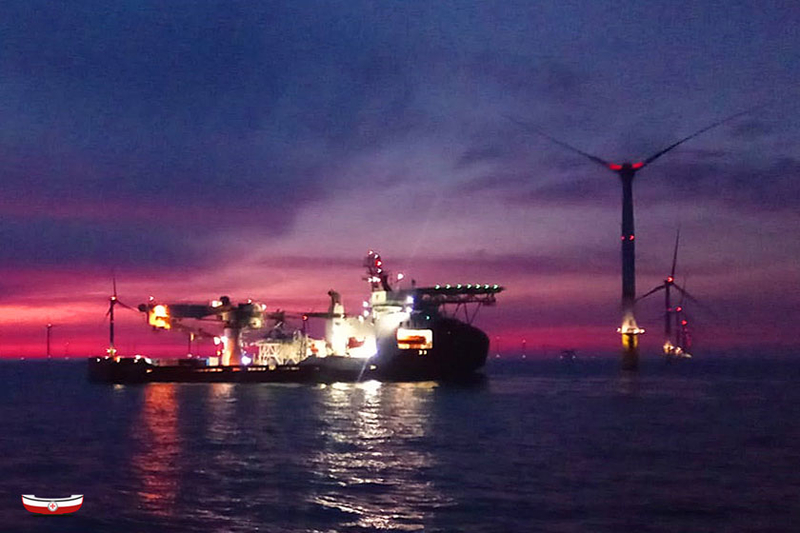 The 26-metre CTV Njord Forseti reported the incident at 6:25 pm local time, Thursday, 23 April, German Maritime Search and Rescue Association (Deutsche Gesellschaft zur Rettung Schiffbrüchiger (DGzRS)) said.
The 24 PAX vessel, located some 45 kilometres north of the island of Borkum, also reported taking on water.
The rescue services contacted the crew of the nearby multi-purpose offshore vessel Siem Baracuda. The vessel's emergency medic started the initial care of those injured in the accident within minutes, Dirk Lindemann, guard manager in the SEENOTLEITUNG BREMEN of the DGzRS, said.
The customs ship Helgoland and the multi-purpose ship Mellum also went to the scene of the accident.
DGzRS dispatched a new SK 40 sea rescue cruiser to the wind farm. The rescue team also alerted a Northern HeliCopter emergency helicopter that was manned by an emergency doctor.
The rescue helicopter flew the seriously injured from the Siem Barracuda to the University Hospital Groningen in the Netherlands, and then one person with less serious injuries to Westerstede. The CTV Njord Zephyr took over the third injured person which had minor injuries.
Meanwhile, the crew of Njord Forseti, which was taking on water through a half-metre crack in the bow, managed to keep the water ingress under control using on-board equipment. To be on the safe side, the SK 40 accompanied the vessel on her trip to Lauwersoog, the Netherlands.
The 312 MW Borkum Riffgrund 1 wind farm comprises 78 4 MW wind turbines which were officially commissioned in October 2015. The wind farm is operated by Ørsted.