Wärtsilä Gear for Bokalift 2
The Finnish technology group Wärtsilä has received an order for a thruster solution for Boskalis' Bokalift 2 crane vessel.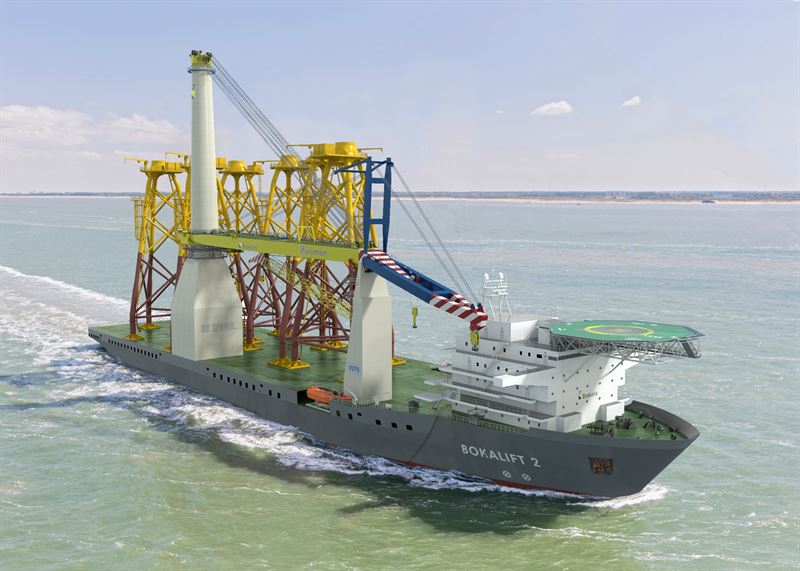 According to Wärtsilä, the thruster solution will enable Boskalis to convert an existing hull into the crane vessel Bokalift 2. The order was placed in December 2019.
Wärtsilä will supply four retractable steerable thrusters and thruster controls, as well as two tunnel thrusters. The retraction system, combined with the 8-degree tilted thruster, is a key factor in enabling effective station-keeping performance, the company said. The thrusters' retractability also enables shallow draft operations.
"Wärtsilä's thruster solutions enable this kind of high specification vessel to operate successfully in sustainable energy installation projects. Furthermore, the energy efficiency of our thrusters reduces fuel consumption, which at the same time limits emission levels," said Stefan Wiik, Vice President, Asset Management Services, Wärtsilä Marine.
Boskalis plans to deploy Bokalift 2 on the 589MW Changfang and Xidao project in Taiwan.
In a joint venture with Hwa Chi Construction Co, Boskalis will transport and install the 62 jacket foundations and the accompanying pin piles at the site some 15 kilometres offshore Changhua County.
Once converted, Bokalift 2 will have 7,500m2 of free deck space and a 4,000t revolving crane capable of lifting structures more than 100m high.
The DP2 vessel, capable of accommodating 150 persons, will be used for the installation of current and future generation offshore wind turbine foundations, as well as oil and gas structures, Boskalis said.