Hung Hua Orders Third Damen Fast Crew Supplier
Hung Hua Construction has placed an order with Damen for the third Fast Crew Supply (FCS) vessel that will service the Asian offshore wind market.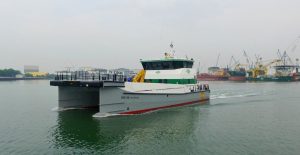 The parties signed the contract for the Damen FCS 2610 in September, and the vessel is already on stock at Damen Shipyards Singapore.
It will be delivered this month following finishing and some customization, when it will become Hung Hua's first operational vessel, Damen said.
In early 2020, Hung Hua's FCS 2610 will be joined by two Damen FCS 2710 vessels ordered at the start of 2019. According to Damen, Hung Hua is also planning to add another two FCS 2710 vessels to its fleet by the summer.
All the vessels will be operated by Dong Fang Offshore (DFO), a fully owned subsidiary of Hung Hua Construction, which signed a Memorandum of Understanding (MoU) with High Speed Transfers (HST) to cooperate on the provision of crew transfer vessel (CTV) services for the offshore wind market in Asia.
The first phase of the agreement is the establishment of a comprehensive safety management system (SMS) for the vessels and initiating ongoing crew training in both Europe and Taiwan for the locally based crews.
"The FCS 2610 will be the first CTV of our future offshore fleet," said Polin Chen, DFO's Managing Director. "It is also a significant milestone for Hung Hua and Dong Fang Offshore as it firmly commits us to the offshore wind industry in Asia."