Damen Receives Fast Crew Supplier Order in Taiwan
Hung Hua Construction (HHC), a Taiwanese dredging and nearshore construction company, has placed an order with Damen for two fast crew supply vessels of the latest FCS 2710 class.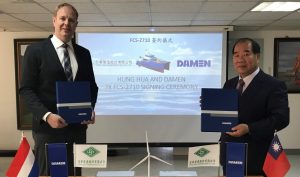 The two vessels, for which a contract was signed at the end of January, will be built at Damen Shipyards Singapore and are scheduled for delivery in early 2020.
HHC will use the vessels to support Taiwan Power Company, for which it recently completed the installation of the Southern Weather Observation Tower, which marked the company's entrance in Taiwan's offshore wind sector.
"We have been following the developments in the Taiwanese offshore wind sector for some time and it now looks very promising with many projects starting in 2019 and 2020," said Michiel Hendrikx, Sales Manager Asia-Pacific for Damen Shipyards Group.
"The FCS 2710 is proving to be very successful in the offshore wind market in Europe and we are sure that she will also perform well in Taiwan's local waters which can be quite harsh and rough. We are also confident that the market in Asia will have more demand for this type of vessel in the future and so we have decided to start series production of the FCS 2710 in Singapore with two more vessels to be ready for delivery in 2020."
The twin-hulled FCS 2710, with the Damen trademark axe-bow, is one meter longer and extends one meter higher above the waterline than its predecessor the FCS 2610, which allows it to operate in wave heights of above two meters.
The FCS can carry twice as many personnel, as well as offer more flexibility, more tank capacity, greater usable deck space, and increased comfort, Damen said.
According to Damen, the two vessels for HHC will have some additional, small changes to meet the company's specific demands, as well as optimize them for local Taiwanese requirements and conditions.
"We are pleased to announce our order of two Damen FCS 2710 CTVs which will be the latest and most state-of-the-art design of CTV in Asia," said Polin Chen, Assistant to the President at Hung Hua Construction.
"Being the first private company to invest in offshore vessels in Taiwan, we, Hung Hua, are confident and determined to build up local capacity for Taiwan's offshore wind industry. We have full confidence in Daman's impressive track record, quality and reliable services. That's why we chose Damen, and soon we will be expanding our fleet by up to eight CTVs."
Related news
List of related news articles