GE Haliade-X 12MW Comes to China
GE Renewable Energy has signed a cooperation agreement with State Power Investment Corp (SPIC) to bring the Haliade-X 12MW offshore wind turbine to China.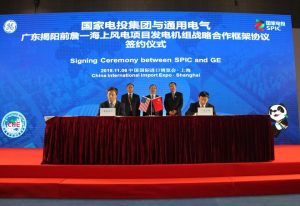 GE announced in March last year that it will invest more than USD 400 million to develop and deploy Haliade-X 12MW, the world's most powerful offshore wind turbine.
The first unit was installed at Maasvlakte in the Port of Rotterdam in mid-October. Shortly after, the Haliade-X 12MW prototype turbine produced its first power.
Local teams are now proceeding with the testing phase, during which different types of measurements will be performed to obtain a Type Certificate for the turbine in 2020. Serial production is expected to start in the second half of 2021.
As reported, a nacelle from the Haliade-X 12MW turbine recently arrived at ORE Catapult's testing facility in Blyth, Northumberland, ahead of a testing program designed to prepare it for years of operation at sea.
Related news
List of related news articles