LM Wind Power has sent off the first 107m long blade for GE's Haliade-X 12MW turbine from its factory in Cherbourg, France, to the UK where it will undergo testing.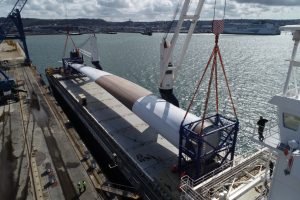 The LM 107.0 P blade, the world's largest, was loaded onto a vessel on 13 August in the Cherbourg harbor and began its journey to the Offshore Renewable Energy (ORE) Catapult testing facilities in Blyth.
Once there, the Haliade-X nacelle and blade will undergo a technology testing program to ensure they are ready for years of offshore operation.
As reported, the nacelle of the Haliade-X 12MW recently began its journey from GE's production site in Saint-Nazaire to Rotterdam, the Netherlands.
"It is thanks to the high commitment of the LM Wind Power and GE Renewable Energy teams from all our plants worldwide and design offices that this dream could come true here in Cherbourg," said Erwan Le Floch, Cherbourg Plant Director.
"All the recently hired local people are extremely grateful for the skill transfer and have the willingness to perform to their best, actively participating in the development of offshore wind."
In June, LM Wind Power rolled out the first blade for the Haliade-X 12MW offshore wind turbine in Cherbourg.
Haliade-X 12MW will be installed in Rotterdam this summer and will be placed onshore to facilitate access for testing. It is expected to allow the collection of data during the initial period of operations which is needed to obtain the Type Certificate in 2020 and ship first commercial units in 2021.
Photo: Manche Drones Production
Related news
List of related news articles