Taiwan: JFMS Teams Up with TIPC
James Fisher Marine Services (JFMS) has signed a Memorandum of Understanding (MoU) with Taiwan International Ports Corporation (TIPC) to explore port services that will support the offshore wind industry in Taiwan.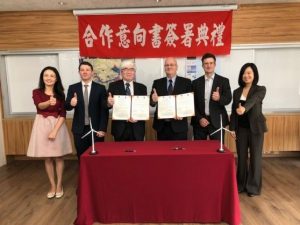 The collaboration will explore ways to broaden TIPC's services and better meet the needs of Taiwan's emerging offshore wind industry, JFMS stated.
TIPC is in charge of the seven major international commercial ports in Taiwan, including Taichung Port, where the company expects to complete first dedicated heavy-duty wharf for offshore wind turbine assembly by the middle of this year.
TIPC is now evaluating the provision of wind turbine logistics and value-added services, such as operation and maintenance, and hopes to set the benchmark in East Asia for providing multi-functional port support services for the offshore wind industry, according to JFMS.
President Chung Ying Feng, Taichung Port of TIPC, said: "Based on the experience of established offshore wind markets in Europe and the US, we believe port services are an important base and gateway for its development. TIPC hopes to benefit from JFMS's forward-looking approach to service integration and its proven expertise in the offshore wind industry to help us service this rapidly-growing market in Taiwan."
Earlier in January, James Fisher Marine Services (JFMS) opened a new regional base in Taipei in support of Taiwan's offshore wind projects.
Richard Beattie, regional director of JFMS Taiwan, said: "James Fisher continues to expand internationally and is ideally placed to support the requirements of global offshore wind farm owner/operators due to its experience in deploying UK skills and expertise to emerging and fast-growing markets worldwide. We believe this partnership will provide TIPC with the platform to be the pioneers in providing port services for Taiwan's offshore wind power industry."
Related news
List of related news articles