Living Stone Gets to Work on Hornsea One
DEME Group's new cable laying and multipurpose vessel Living Stone has started her first offshore wind assignment on the Hornsea Project One wind farm off the North Sea coast of the UK.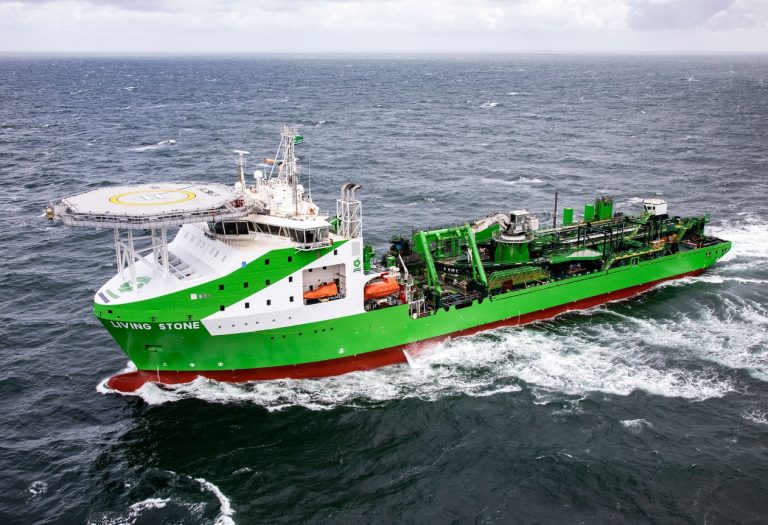 The 1.2 GW Hornsea Project One is the largest wind farm in the world and is located 120 kilometres off the Yorkshire coast in the UK.
Tideway, part of DEME Group, is in charge of laying export cables from three different offshore substations to the shore, as well as the installation of two interlink cables. Tideway is also tasked with boulder removal, pre-trenching, cable pull-in to the substations, crossing installation and cable burial.
After the Hornsea Project One cable installation works, Living Stone will continue with the cable installation works offshore Belgium for Elia's Modular Offshore Grid (MOG) project.
The 160-metre Living Stone is designed to lay deep-sea cables linking offshore wind farms and the mainland. In addition, the vessel is also equipped for the positioning of rocks using a vertical fall pipe system that can reach depths of up to 1,000 metres. Additional features include a cable capacity of more than 10,000 tonnes, an in-house designed cable laying system, dual-fuel (MGO-LNG) engines, and a DP3 system.
The cable-laying system, designed by Tideway and built at Reimerswaal shipyard, has two cable ways – one to lay the cable and another on which the next cable can be prepared at the same time and on which a cable protection system (CPS) is installed.
System integrator Alewijnse Marine was in charge of electrical outfitting works on the vessel.