Norther OSS TP Waiting for Ride to Rotterdam
Norther BV, the developer of the 370MW offshore wind farm off the coast of Belgium, has posted a photo of the transition piece (TP) for the Norther substation waiting to be transported to Rotterdam, from where it will be installed at the site by Aeolus.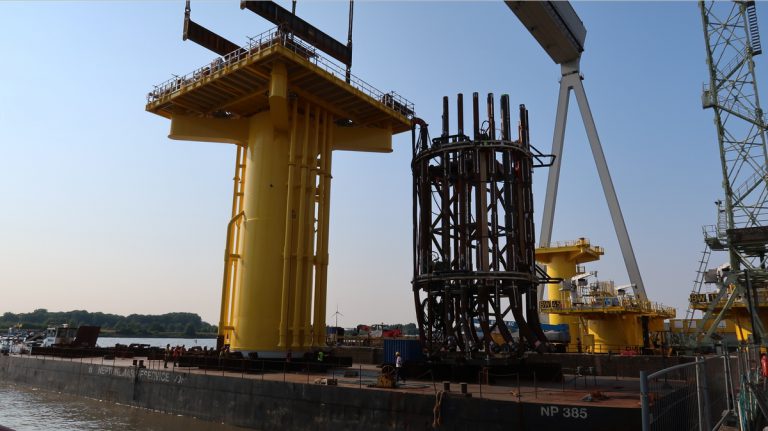 The transition pieces, including both those for the wind turbines and the one for the offshore substation, are being produced by Sif and Smulders.
In January 2017, Van Oord – the Balance of Plant contractor for the Norther wind farm – awarded the foundation manufacturing contract to Sif, under which Sif is in charge of producing all 44 monopiles and a pile for the offshore substation, as well as all TPs in cooperation with Smulders. For the TPs, Sif is producing the primary steel, while Smulders is in charge of the outfitting.
The jack-up vessel Aeolus was reported on 23 July as undergoing final preparations at the Port of Vlissingen, the Netherlands, before heading out to the Belgian offshore wind farm to install the first monopile foundations.
Van Oord commenced offshore works in May with the installation of scour protection, for which the main contractor hired DEME Group's subsidiary Tideway.
The Norther offshore wind farm, located approximately 23km from the port of Zeebrugge, will feature 44 MHI Vestas V164-8.0MW turbines optimised to be able to deliver a maximum output of 8.4MW.
Offshore WIND Staff