Van Oord and Tideway Kick Off Norther Offshore Works
Belgian offshore wind developer Norther NV has announced the start of offshore construction works on the 370MW Norther offshore wind farm.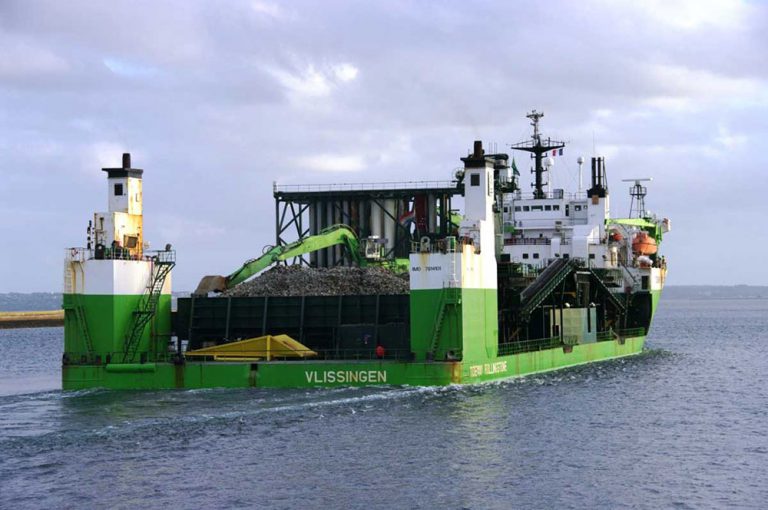 The first phase includes scour protection works scheduled to start in the Belgian North Sea this month.
"This is one of the first visible activities of the construction of the Norther offshore wind farm. We are delighted to launch the construction of the Norther project. This will be the biggest wind farm of the Belgian coast. We are also very proud to actively contribute to the Belgian climate objectives for 2020," Dennis Sanou, director of the Norther project, said.
The project's main contractor Van Oord outsourced the installation of the scour protection materials to Tideway, a subsidiary of the Belgian company DEME.
The vessels Flintstone and Rollingstone, equipped with a downpipe system and an underwater robot, are deployed on the project. The Rollingstone will place the blocks of stone weighing nearly 120 kg each through a separated large diameter pipe. Around 80,000 tons of filter material and 45,000 tons of stones will be installed.
This project includes the placing of two protective layers to prevent erosion around the wind farm's turbine foundations.
The installation of the foundations is scheduled to start in July. They will be transported from Vlissingen and installed on the site by Van Oord's jack-up vessel, Norther NV said.
"After a long period of preparations carried out in close cooperation with the client, our project team is impatient to launch the offshore operations. Together, we will realize the biggest wind farm project in Belgium," Floren Verweij, project manager at Van Oord, said.
Located 23 kilometres offshore Belgium, Norther will comprise 44 MHI Vestas 8MW turbines optimised to be able to deliver a maximum output of 8.4MW. The project is scheduled for completion in the third quarter of 2019.
Norther NV is a joint venture company between Elicio and Boreas – a JV between Eneco and Diamond Generating Europe.