Ørsted Places First Offshore Wind Construction Order in Taiwan
Ørsted has signed a contract with the Taiwan-based Century Wind Power (CWP) for the construction of a jacket foundation transition piece mock-up.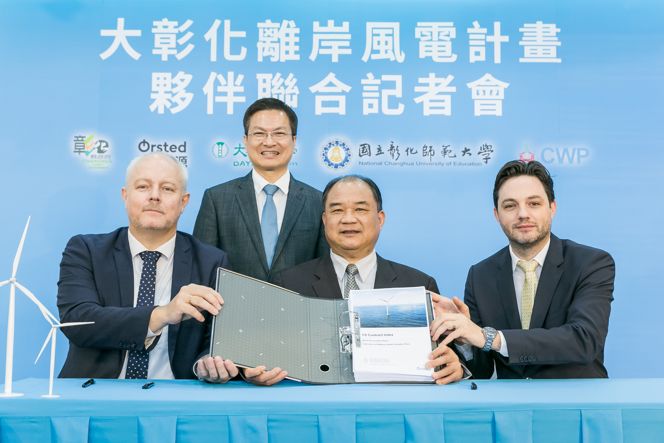 This EUR 2.5 million contract is the first manufacturing order signed in Taiwan since the government dedicated efforts to developing the local supply chain for offshore wind, Ørsted said.
As a first step, CWP will do project management, procurement, fabrication and storage of the mock-up prior to the delivery which is scheduled for the second half of 2018.
This process will enable CWP to be much more mature and ready in time for full-scale fabrication of jacket foundations for the Taiwanese offshore wind market, including Ørsted's Greater Changhua projects for which the two companies signed a Memorandum of Understanding to collaborate on turbine foundation manufacturing in November 2017.
According to CWP's Chairman Lai Wen Hsiang, the company is currently establishing a joint venture with the Denmark-based jacket foundation specialist Bladt Industries. The joint venture will act as CWP's subsidiary and will enable the company to tap into the European fabrication technology and help CWS and its parent company Century Iron & Steel Industrial become qualified suppliers of offshore wind foundations.
CWP also plans to build a new plant in the Port of Taipei, with 16ha land for the foundation fabrication, and another 16ha of storage area for the jackets, Lai said, adding that the plant is scheduled for completion by the end of 2019.
The Greater Changhua offshore wind projects include four sites located 35 to 60km off the Changhua coast.
Ørsted's investment per project in Changhua will be between TWD 90 to 110 billion (EUR 2.5 to 3 billion) and the total business value for four Greater Changhua projects' underwater foundation fabrication will be up to TWD 60bn (around EUR 1.7bn).
The four wind farms are expected to be completed in the period between 2021 and 2025.