EOLOS to Take On America and Asia in 2018 (Expertise Hub VIDEO)

Floating LiDAR solutions provider EOLOS plans to enter offshore wind markets in America and Asia in 2018, Julian Harland, Sales Director at EOLOS, said.
''We are looking at negotiating contracts closer to home and we are keen to build on the credibility we fostered locally with contracts with Iberdrola and in the Mediterranean, and surely we will be announcing awards in similar geography,'' Harland said.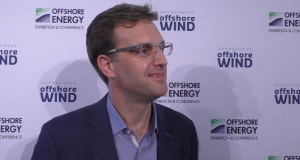 ''Looking onwards to 2018, we are very keen to look at other opportunities in both America and Asia.''
Watch our Expertise Hub video to find out which approach EOLOS will use to create a global footprint, and to learn more about the company's current and future activities in the offshore and floating wind market.
---
For more Expertise Hub interviews, visit Navingo's Offshore WIND channel on Vimeo.