DHSS to Set Up Offshore Service Base at Port of Eemshaven
Offshore wind service provider DHSS and Bek & Verburg, a specialist in waste collection and segregation, will build an offshore wind farm service hub at an A1 location in Beatrixhaven, at the heavy cargo quayside in Port of Eemshaven.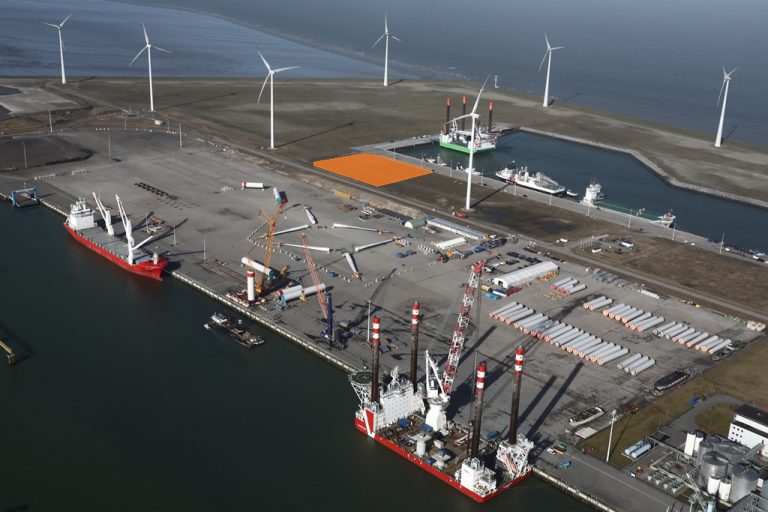 On 21 September 2017, Groningen Seaports officially transferred the A1 location of 10,000m² in Beatrixhaven to Bek & Verburg, with whom DHSS will construct the new offshore service base.
The service base comprises a warehouse building and offices totalling 1,800m². The complete yard and warehouse area will be built with a liquid-tight floor and meet the strictest environmental requirements, DHSS said, further adding that the project will completely fulfil the requirements for an offshore wind farm service hub.
In front of the new base, with preferred quayside for seagoing vessels, is a heavy load quayside with the possibility for near quay jacking, DHSS writes.
"With our major experience in Offshore helicopter logistics as well, DHSS is the single source when it comes to logistics and planning by sea and air in this industry," said Wim Schouwenaar, CEO and founder of DHSS. "DHSS is based in all strategic ports in The Netherlands, when it comes to Offshore Energy. With this new location at one of the best quaysides in Port of Eemshaven, for vessel assistance in segments of construction and O&M phase of windfarms at Dutch and German sector, we are able to accelerate together with the major players in the industry."
"With the expertise that we have built up over the past 55 years, we can ensure that 93% of all waste will find a useful (recycled) application. This way, we can, as a link within the Offshore Wind Industry, ensure that not only the energy itself is green, but also the waste which is released on a green way can be collected and processed," said Daan van Mullem, owner of Bek & Verburg.
Development and construction work is being carried out by Versluys Groep, and the new facility is expected to be operational in the first quarter of 2018.