Vattenfall Seeks DanTysk, Sandbank Heli Search & Rescue Team
Vattenfall has invited tenders for the provision of helicopter rescue services for DanTysk and Sandbank offshore wind farms in Germany.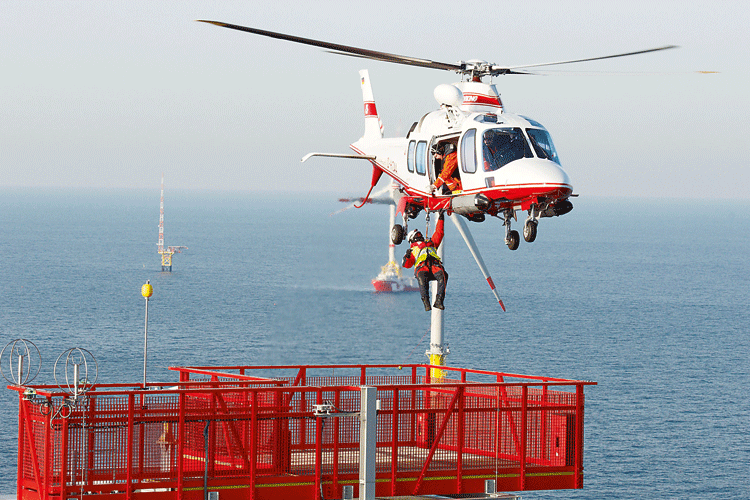 The tender is divided in three lots: Rescue Helicopter, Paramedics and Telemedicine, three being the maximum number of lots that may be awarded to one tenderer.
The offshore wind developer is looking for a rescue helicopter with flight and medical teams to set up a whole rescue chain for the two offshore wind farms.
To ensure the rescue chain, it is important to take into consideration the emergency response time (rescue helicopter), exposed location of the wind farms, weather conditions and the number of the staff ensuring the operation of the wind farms, according to the tender invitation document For this reason, it is unavoidable to have at least one specially trained and equipped emergency paramedic at the Sandbank and DanTysk wind farms, based 24/7 on the DanTysk offshore accommodation platform. Vattenfall added that the paramedic also might need to be able to be hoisted with a helicopter to a wind turbine, even though this is not planned at the moment.
For this task, the paramedic is authorised by an emergency physician and can be advised by him, or by an emergence hospital, if necessary. In addition, the paramedic can be transferred by a CTV to the DanTysk and Sandbank turbines, if needed.
Vattenfall is also procuring a suitable telemedicine device and the needed telemedicine connection to emergency hospital within the framework of the operational rescue concept for DanTysk and Sandbank.
Deadline for submission of requests to participate is 22 August. Invitations to tender or to participate to selected candidates are expected to be dispatched on 31 August.
The awarded contract(s) will start on 1 February 2018 and end on 31 January 2020, with an option for renewal.
Vattenfall and Stadtwerke München (SWM) inaugurated the Sandbank offshore wind farm on 23 July. The DanTysk offshore wind farm was fully commissioned in April 2015, and its offshore accommodation platform was installed in the summer of 2016.