DanTysk Officially Opened
Vattenfall and SWM officially opened the 288MW DanTysk offshore wind farm today.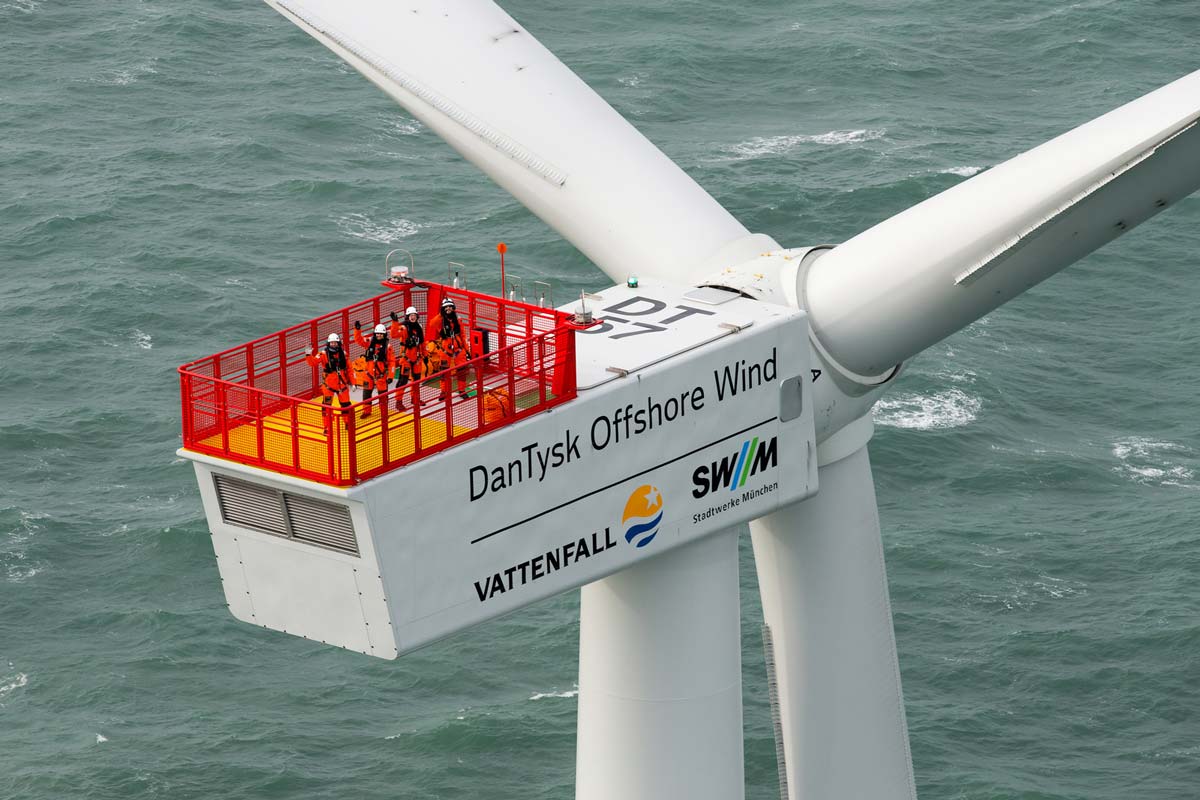 The ceremony, held in Hamburg, was attended by German Federal Minister for Economic Affairs Sigmar Gabriel, Swedish Minister for Enterprise and Innovation Mikael Damberg, Hamburg Mayor Olaf Scholz and Torsten Albig, Prime Minister of the State of Schleswig-Holstein, joined Magnus Hall, President and CEO of Vattenfall, and Dr Florian Bieberbach, CEO of SWM.
Gunnar Groebler, Head of Business Area Wind at Vattenfall said: "We are very pleased that we have now brought the first large offshore project in Germany to a successful conclusion together with SWM. With DanTysk and the affiliated Sandbank project currently under construction, we are making a significant contribution to the further expansion of renewable energy in Germany and consistently implementing our growth strategy in the wind sector."
Dr Florian Bieberbach, CEO of SWM commented: "For us and our stakeholder, the City of Munich, today is a special day. We have already implemented many projects with renewable energy, and in each of these we have played a pioneering role. With today's official commissioning we add the first finalized offshore wind farm to our portfolio."
Located 70 kilometres west of Sylt Island, the DanTysk offshore wind farm is the first infrastructure project jointly implemented by Vattenfall and SWM as part of the energy transition in Germany. Vattenfall holds a 51% stake in DanTysk Offshore GmbH, which is responsible for construction and operation, while SWM holds 49%.
The site comprises a total of 80 Siemens wind turbines in the 3.6 megawatt (MW) class with a total installed capacity of 288 MW. The capital investment is more than EUR 1 billion. DanTysk will generate climate-neutral power equivalent to the annual consumption of more than 400,000 average households. Offshore construction started in February 2013.
Vattenfall and Stadtwerke München (SWM) are continuing their established partnership in the construction of offshore wind farms in the German North Sea. In August 2014 the responsible committees of the two companies gave the green light for the construction of the Sandbank offshore wind farm, which will also have a capacity of 288 MW and will be built near DanTysk in the summer of 2015.
The capital investment for Sandbank is roughly EUR 1.2 billion.
Image: dantysk