Stanislav Yudin Installs DanTysk Offshore Accommodation Platform
Seaway Heavy Lifting's crane vessel, Stanislav Yudin, installed the offshore accommodation platform for the 288MW DanTysk offshore wind farm some 90 kilometres off the German North Sea coast today at 4 AM CET.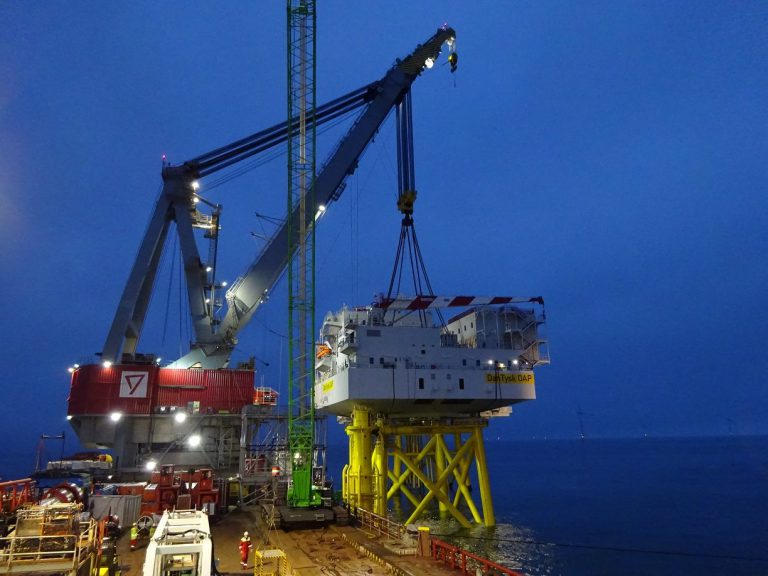 The platform stands 20 metres above sea level and will house up to 50 people in a space of to 2,500 square metres. It will be home to the wind farm's maintenance teams 365 days a year, with these teams working for periods of 2-3 weeks at a time.
The members of the crew have individual rooms, each equipped with a bath, TV, internet access and a telephone.
Communal areas include a reading room and a recreation room. The living quarters are equipped with a hospital room and a pharmacy.
The platform also has offices fitted with the appropriate communication technology, such as radars, satellite reception and fibre optic links.
The platform was installed some 1.5 kilometres from the nearest turbines, which is expected to significantly cut the wind farm's operations & maintenance costs.
The DanTysk wind farm covers an area of around 70 square kilometres some 70 kilometres west of the island of Sylt. The wind farm comprises 80 Siemens 3.6MW wind turbines which were fully commissioned in April 2015.
The project is a joint venture between Vattenfall (51%) and Stadtwerke München (49%).