SPT Offshore Signs Korean Offshore Wind Deal
SPT Offshore has made its first entry into the Korean offshore wind industry by signing a Memorandum of Understanding (MoU) with Korea Wind Energy on 15 June 2017.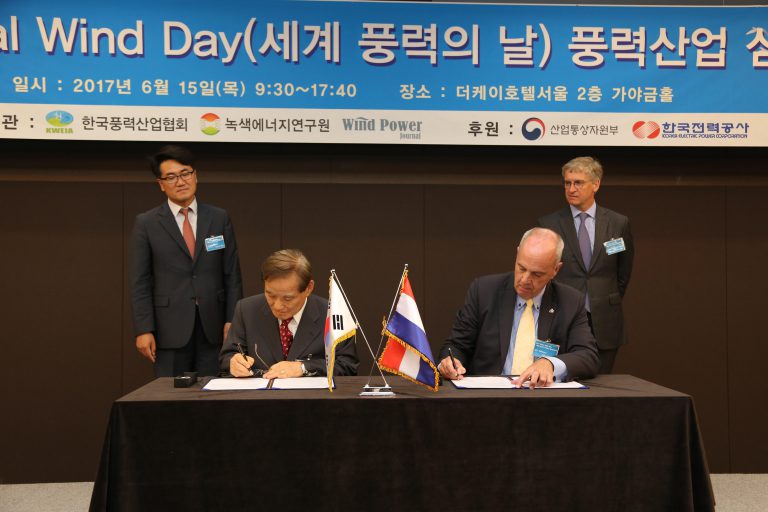 The MoU was signed in the presence of the Netherlands Ambassador to Korea, Mr. Lody Embrechts, and the former Netherlands Prime Minister, Prof. Dr. J.P. Balkenende.
The partnership covers a joint viability assessment of the envisaged offshore wind farm near Anma Island.
---
In April, SPT Offshore signed a contract with Boskalis to install suction pile foundations on DONG Energy's 1.2GW Hornsea Project One wind farm off UK. Boskalis also awarded SPT Offshore with a contract for the detailed design and installation of suction pile foundations for Vattenfall's 92.4MW Aberdeen offshore wind farm.
---
South Korea received first electricity generated by an offshore wind farm on 29 September 2016, when the first power was generated by three out of the ten 3MW turbines installed at the 30MW Tamra offshore wind farm off Geumdeung-ri on Jeju Island.
In January, a memorandum of understanding (MOU) was signed for the development of an offshore wind project with a total capacity of up to 96.8MW at Korea's estuarine tidal flat Saemangeum.
On 19 June, the newly-elected South Korea's president Moon Jae-in announced plans for the country's transition to renewables and phase-out of nuclear and coal plants, with solar and offshore wind power in the focus of the country's shift to renewable energy, to which the president referred as the new engine of growth.