TenneT Cleared to Start Building Borssele Offshore Grid
The governments of Flanders and the Netherlands have reached an agreement on the Borssele subsea cables that will run through the Western Scheldt (Westerscheld), the estuary of the Scheldt river and an important shipping route for the Belgian Port of Antwerp.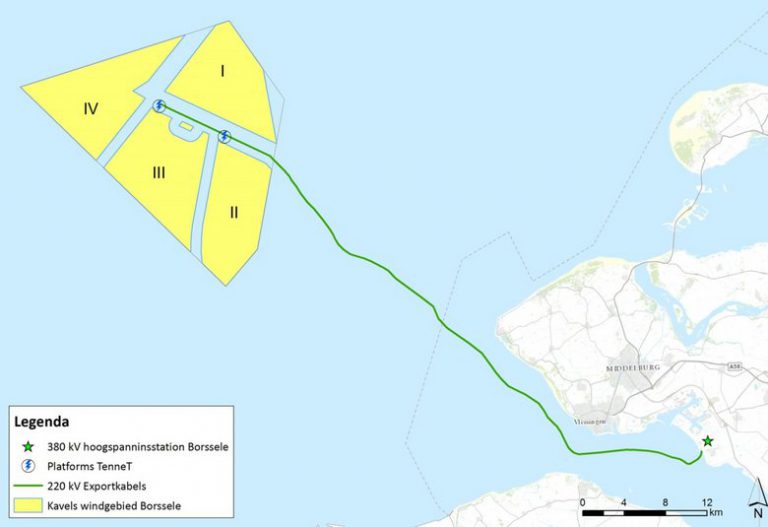 Based on the agreement, the Antwerp Port Authority will withdraw the complaint filed to the Council of State and thus make the final licences for the Borssele connection irrevocable. Consequently, TenneT will launch works on the connection of wind farms off the coast of Borssele to the grid on land.
Concerns were raised over the cables interfering with shipping activities and future developments, especially with regard to possibility of ship anchors damaging the cables. According to TenneT, both parties have now come to an optimal solution that involves the cables being buried deep enough into the seabed and performing regular monitoring associated with soil movement at that depth.
TenneT has contracted HSM Offshore for the construction of the offshore transformer station for the Borssele Alpha wind farm area. HSM is also the intended party for the TenneT's Borssele Beta project.
A consortium of VBMS and NKT Cables has been hired to supply and install two export cables that will connect the Borssele I & II offshore wind farms to TenneT's onshore grid in the Netherlands. Separately, the option has been awarded for the installation of the export cables that will connect the Borssele offshore wind farms 3 and 4 to the Dutch onshore grid (Borssele Beta).
The contract for the Alpha export cabling scope covers two 61km long export cables, routed via the Western Skeldt estuary, that will come ashore near the existing high-voltage substation at Borssele, the Netherlands.
Borssele Alpha, with a connection capacity of 700 MW, will be completed in 2019, while Borssele Beta is scheduled to be in place the following year.
TenneT, responsible for the offshore grid in the Netherlands, is set to develop at least 3,500MW of offshore connections with a standardised concept of 700MW per connection by 2023 as a contribution to the country's Energy Agreement.