BNEF: 237MW of Floating Offshore Wind by 2020
The world could see as much as 237MW of floating offshore wind capacity installed by 2020, according to Bloomberg New Energy Finance (BNEF).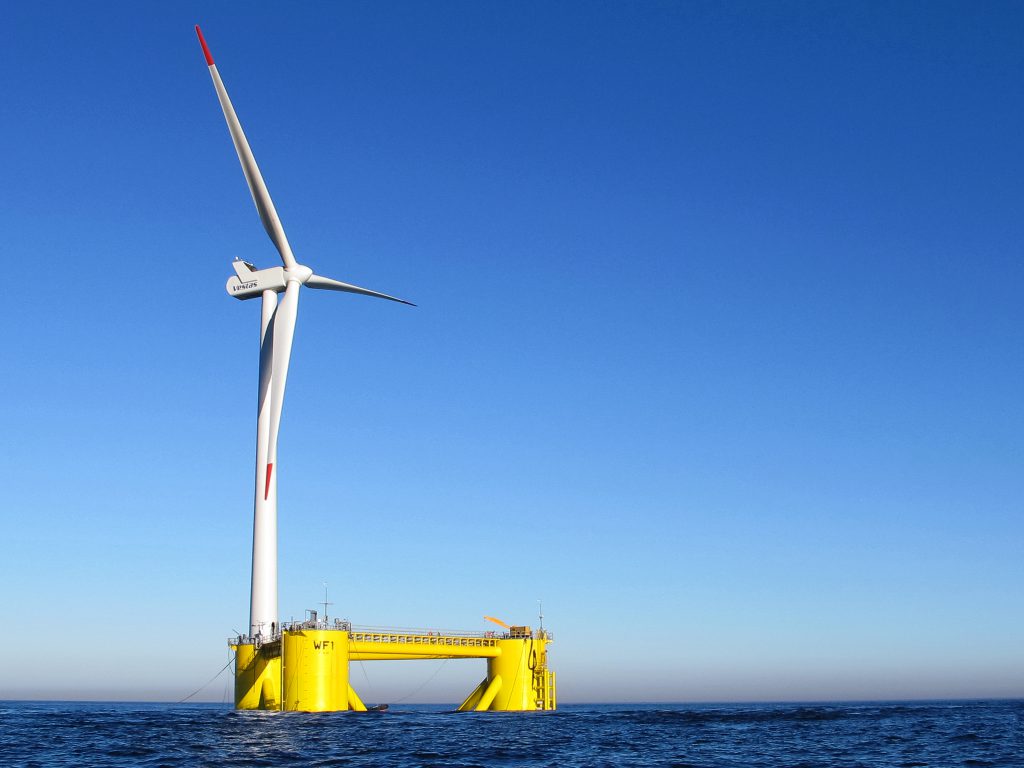 "Floating wind has the potential to bring clean energy to island nations that might not have much land and the seabed is too deep for normal offshore wind," Bloomberg quotes Tom Harries from BNEF as saying.
In its report on floating wind from December 2016, International Renewable Energy Agency (IRENA) also pointed out that floating offshore wind could be game-changing in some of the largest potential markets, which possess few shallow-water sites suitable for offshore wind development. IRENA also said that this technology allows for access to deep-water sites and easy turbine set-up, as well as environmental benefits compared with fixed-bottom designs due to less-invasive seabed activity during installation.
Scotland has so far agreed planning permission for up to 92MW of floating offshore wind, with its first floating offshore wind farm – the 30MW Hywind Scotland Pilot Park – scheduled to be commissioned this year.
On 17 March, Scottish government granted planning consent to the 12MW Dounreay Trì Floating Wind Demonstration Project, shortly after the 50MW Kincardine Floating Offshore Wind Farm received approval. Dounreay Trì is planned to be operational by the summer of 2018, around the same time the Kincardine project is expected to have its first turbine installed.
In November, the Council of Ministers in Portugal gave the green light to the development of the 25MW WindFloat Atlantic (WFA) project in Viana do Castelo, 20km off the coast of Northern Portugal, which is scheduled to be operational next year.
France has approved a total of four pilot floating wind projects so far. On-site measurements have kicked off for a 24MW pilot floating wind farm in the Gruissan area, expected to be commissioned in 2020. The project was given the go-ahead by the French Environment and Energy Management Agency (ADEME) in July 2016, together with the 24MW floating wind farm planned by Eolfi and CGN for the Groix area. In November 2016, France approved two more floating wind projects: EDF Energies Nouvelles' 24MW floating wind farm in Faraman area and the 24MW project off Leucate, proposed by Engie, EDP Renewables, Caisse des Dépôts and Eiffage.
Also, works on the 2MW Floatgen floating wind project are under way in the Port of Saint-Nazaire, with the launch of the floating wind turbine scheduled for this summer and the commissioning set to take place by the end of 2017.
Outside of Europe, Japan has initiated several floating wind projects, such as the demonstration one off Kitakyushu, set to enter construction phase this year. The country's Fukushima Hamakaze floating wind turbine was installed in 2016.
In the US, the University of Maine is developing the 12MW New England Aqua Ventus I floating offshore wind demonstration project in the Gulf of Maine.
As for the recently unveiled projects, in November 2016, Danish renewable energy technology developer, Floating Power Plant (FPP), entered a joint venture with DP Energy to set up pilot demonstration projects featuring FPP's hybrid wind-wave technology at two sites, one in Scotland and one in Wales. Should everything go as planned, the projects could be up and running by 2020.
Furthermore, Atlantis Resources and Ideol have signed a Memorandum of Understanding (MoU) to collaborate on a floating wind project off the UK, which could reach a capacity of up to 1.5GW, with a pre-commercial phase of up to 100MW commissioned by 2021. Ideol has also teamed up with Gaelectric to develop floating offshore wind energy projects in Ireland, with an initial objective to develop a 30MW+ turbine array project, followed by a multi-GW commercial-scale extension on both Irish coasts.
Offshore WIND Staff