Wagenborg Supports German Energy Transition with Transformer Transport
Due to German "Energiewende", TenneT is preparing its transmission system to handle energy from offshore wind farms. As one of the major components, Wagenborg transported a transformer weighing 260 tonnes from Nürnberg to the substation in Diele last weekend.
On November 3, the transformer was transported from the manufacturer to Rotterdam by an inland water vessel. Upon arrival in Rotterdam, a floating crane took care of the transshipment of the transformer and lifted the heavy unit on a 18-axle modular trailer. Subsequently the trailer drove on a pontoon, after which the journey could continue to Bingum (Germany) over inland waters. On Saturday, November 8, the transformer was discharged by means of a RORO operation to be transported to the Diele substation the following day.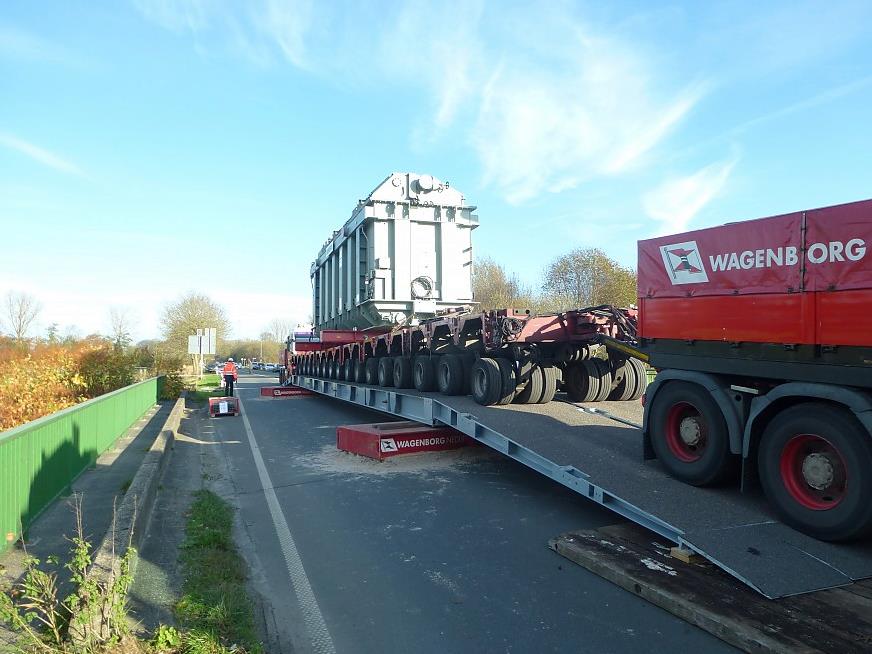 The entire project was planned and prepared properly, but some occasions cannot be foreseen… Due to heavy fog, an inland vessel collided with a bridge on the Eemskanaal near Groningen and temporarily blocked the transport route. The transport was jeopardized to get delayed.
However, on Sunday afternoon the transformer arrived at Bingum after which the load was transported to Diele within only 3,5 hours and installed upon foundation on Monday. For the road transport form the RORO quay to the substation, a 18-axle modular trailer was used. Upon arrival of the trailer at the transformer station in Diele, the load was driven under a 500-tons lifting gantry, which lifted the transformer off the trailer.
Finally the transformer was pulled to its final destination with hydraulic tirfors.
[mappress mapid="14778″]
Press release; Image: Wagenborg