Big, Bigger, Giantic – XL vibratory technology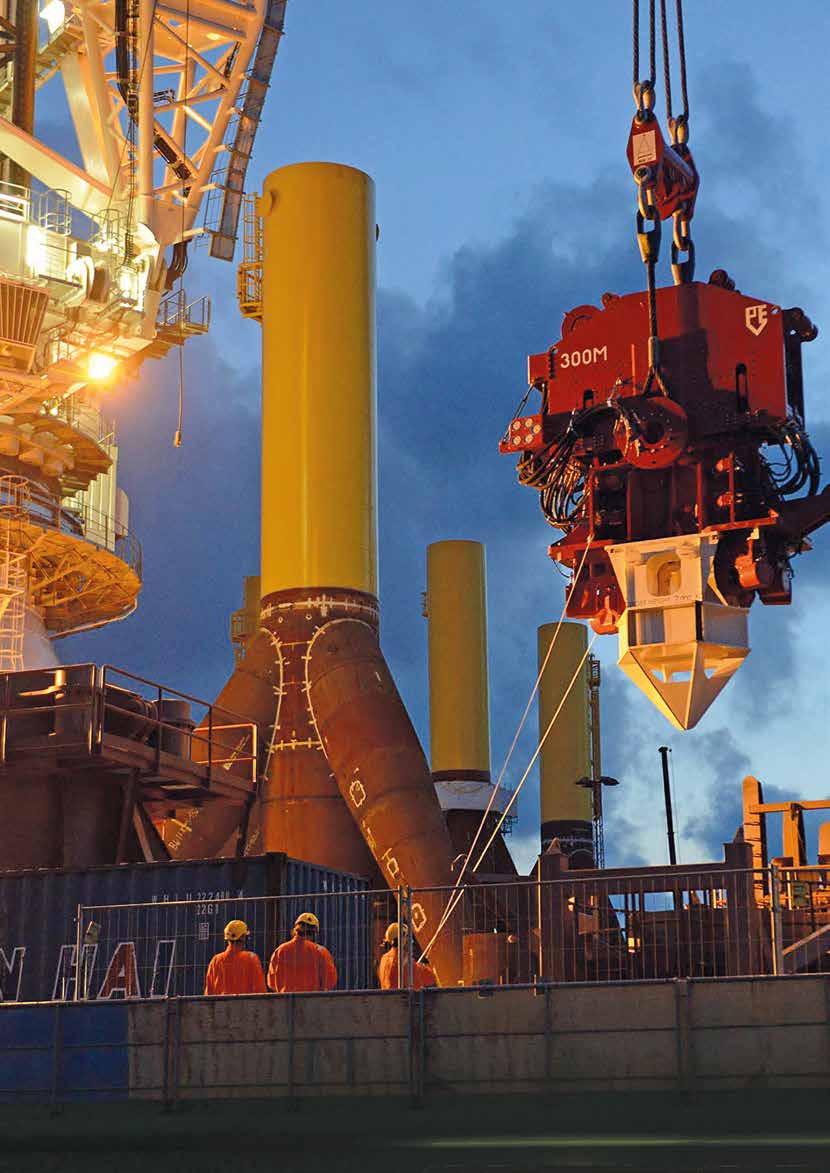 Minimising the impacts of underwater noise from piling activities is an important environmental issue. Foundations for offshore wind farms require piling, either heavy piling for monopiles or piling to a lighter degree for jackets. Up to now the offshore wind industry has used hammers to carry out this work. Dutch engineering company Dieseko Group is confident that their new application of existing vibration piling technology offers an alternative to installing foundations. Offshore WIND visited their head office in Sliedrecht and spoke to Managing Director Jan van Es, Marketing Manager, Douwe Feenstra and Sales Director Herald Wattenberg. 
Mr Feenstra; "There is no doubt that vibratory technology is a proven technology onshore and near shore which could be translated for application in the offshore wind industry."
The technique is simple: a vibro hammer grips itself to a pile with clamps. Through the combination of vertical vibrations and the force and weight of the vibro hammer the pile is driven into the seabed. This makes this technology quicker than conventional piling hammers but also more environmentally friendly as it produces a noise that is within the current noise regulations for Germany.
The energy waves caused by the vibratory activities travel up to 2km from the source compared to 20km when using a hydraulic piling hammer. Mr Wattenberg: "Another advantage of a vibro hammer is its ability to drive a pile more accurately into the seabed as corrections can be made during the driving process."
However, he admits, this is not an easy task; "The offshore wind market is dominated by the hammering technique. Therefore there is still a sense of ignorance here on the use of alternatives to this method. Contractors tend to stay with known technology."
Dieseko Group took their chance and made an initial step in this industry a few years, when the company tested their 200M vibro hammer in the German BARD 1 project. Many lessons were learned here. He adds: "We took our experience home and worked on the further development of this technique making it more suitable for use in the offshore wind industry."
Upending, lifting and installing
The result was the 300MU Upending Vibro Hammer, a multi functional vibro hammer which is not only able to drive a pile into the seabed but can also carry out the complete process from lifting the piles from their horizontal transit position, upending, and positioning the pile ready for the Vibro Hammer to drive it into the seabed, and all in one procedure. This is achieved by an integrated tilting solution. Dieseko Group has obtained a patent for this additional feature to the classic vibro hammer.
Mr Feenstra explains; "This powerful combined technology offers many additional advantages. With the PVE 300MU there is no need for the pile to be moved from one piece of equipment to another as there is no additional lifting equipment used. With the entire process taking place in one sequence this minimises the handling time prior to the driving which means further time saving.
Taking into consideration the costs of vessel charter it is clear that saving time results in significant cost reduction." Using just one device also saves deck space.
The 300MU is Tiiv Sud certified and at the moment used by Hochtief Solutions on the installation vessel Innovation, performing tripod foundation installation work at the Global Tech 1 offshore wind farm in the Deutsche Bucht in the German North Sea. In total 240 piles with a diameter of 2.5m, 3 for each of the three legged foundations, are initially driven by the vibro hammer into the seabed. Dieseko Group uses their PVE 3200 hydraulic power unit to power the 300MU.
Up to now the project is providing them with an outstanding reference for future projects. Mr van Es, "We are proud that Hochtief gave us their trust to prove our technology. We have worked very closely with them to make sure that our devices were specifically designed to achieve their optimal usage."
In the office Mr Feenstra pointed at the the assembly facilities which are clearly visible through the office window and said, "For Dieseko Group successful innovation stands for engineering new concepts in a dialog with our customers. Having our assembly and testing facilities and our R&D department all under one roof and our sub suppliers nearby we can invite our customers and show them the process resulting in working together to optimise our equipment to their demands. We take pride in that we offer an open and personal working relationship. We don't just simply deliver a tool!"
Mr van Es; "While we can produce on a production line for the onshore market in response to demand, however it is a different story for offshore.
For the offshore wind market we first designed the equipment and then looked for customers. It doesn't stop here though, close contact with the customer and the market for exchange of ideas is vital in further developing a good piece of equipment as we have to deal with variable elements such as soil conditions and water depths."
Eye on the future
Therefore their in-house R&D department is continuously looking at the latest and future developments that are predicted by the industry. Unfortunately the market is not always keen on sharing knowledge. And even then it is not always clear which path to chose, says Mr Wattenberg. A few years ago the industry was predicting that the monopile foundation would lose ground as the wind farm projects move further away in waters deeper than 40m, the traditional limit assigned to monopiles. Mr Wattenberg, "However, now it does seem that monopiles can be tailored made for deeper water depths, the so called XI monopile XL. These will need to be even longer and with a larger diameter.
Bigger is also heavier. Where the 300MU is perfectly suitable for driving piles for jacket and tripod foundations, such as the tripod foundations in Global Tech 1, it can not handle these larger heavier monopiles. Dieseko Group already has a 600MU version, but it will not stop here and bigger ones will also be needed."
Beside the size of the monopiles there is also the type of vessel and crane capacity on board a vessel to take into consideration. Our equipment should be able to respond to these developments, he added.
Other variable elements that affect the design of a vibro hammer are seabed and water depth conditions. These vary per project and country, explains Mr Wattenberg. "The 300MU was designed for use in the German North Sea which is mostly very sandy. However, for the UK market it will not suffice using vibrating technology only to drive the piles for the foundations. The seabed here contains layers of lime stone." In these soil conditions it is only possible to work using vibratory technology in combination with hammering or drilling. The disadvantage here is that time is lost in the exchange of equipment making vibratory techniques less competitive.
'Thinking into the box'
This is where Dieseko Group came up with a modular vibratory tool, the PVE Giant Vibro Hammer (Giant). Rather than interconnecting separate mono vibro hammers in a frame, as has been done in the market up to now, with the Giant they now can offer a single tool where individual gear cases can be adjusted and added.
The centre of the Giant is a baseplate around which the necessary lifting components are connected and underneath which the clamps, for gripping the pile, are attached. On top of the baseplate up to 8 gear cases each of 250kgm can be placed depending on the size of the pile to drive, offering a maximum eccentric moment of 2,000kgm and a maximum diameter
of 8 meters. Mr Wattenberg, "Think of it as Lego! For heavier piles, more gear cases are needed."
Another advantage of the Giant concerns the economical aspect. When clients can not earn back the investment of a vibro hammer in one single project with the Giant they can easily adjust it for use in other projects using piles with different dimensions. The Giant also has the tilting option for upending the piles.
'Thinking on to the box'
The good news does not stop here though. To expand the working conditions of the PVE Giant vibro hammer Dieseko Group have added drilling techniques. On top of the Giant a drilling rig is installed and built together as a huge vibro drill machine.
During the operation no changing of equipment is needed and these techniques can be interchanged with minimal time loss. This combined technology in one tool reduces the time required for handling and driving by many hours per pile compared to using the separate technologies. This Vibro Drill Giant is developed in a close cooperation with Dutch Drilling Consultants (DDC). This also Dutch company represents over 25 years experience in drilling techniques and is market leader in drilled offshore wind foundations.
"Basically with this concept we are thinking 'out-of-the-box' by actually looking 'into and on to-the-box' ! " Dieseko has patented this working principle.
Sabine Lankhorst