2000 Students Gain Insight into Offshore Wind Career Opportunities (UK)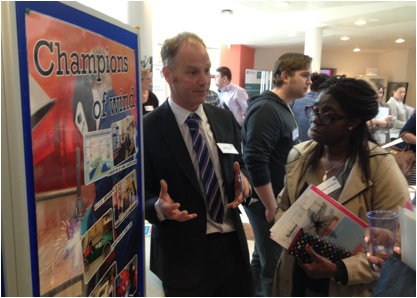 More than 2000 students from Hull, East Riding and Teesside secondary schools have now gained an insight into the career opportunities offered by the offshore wind industry after the completion of the second year of an innovative education initiative, Champions for Wind.
Teachers from almost 20 schools have developed and implemented wind energy careers related activities as part of the initiative introduced by Forewind, developer of the Dogger Bank zone, working in partnership with the Humberside Engineering Training Association (HETA).
Champions for Wind began late in 2011 with the recruitment of 10 teachers from Hull and East Riding of Yorkshire as "wind energy champions". In mid-2012 a further 10 teachers were selected in Teesside. The champions have worked with careers advisors to design and develop curriculum-based resources relevant to their students, school and local area, on opportunities offered by the offshore wind farm industry.
This month the second group of teachers, those from Teesside, had the opportunity to showcase their work at a summer conference held at the National STEM Centre in York. Subject areas covered included science, geography, technology, mathematics, English, history, business and design, and the initiatives included intra-school student competitions, app building, video production, debates and scaled wind turbine construction.
 Forewind General Manager, Dr Lee Clarke said teachers interpreted the briefs in a wide variety of ways and tailored activities to suit the interests and abilities of their own students.
"The feedback from both the teachers and the students has been glowing and research carried out has shown significant increases in knowledge about the wind industry career opportunities, and higher levels of interest in pursuing such roles," he said.
Each teacher involved delivers the initiative to their own, and two to three additional, schools and receives a bursary to support their progress.
"By facilitating careers education for young people living near our proposed onshore infrastructure, we hope to meet the expectations of the local community and also support the wind industry by encouraging motivated young people to enter it," Dr Clarke said.
The programme was designed by HETA to meet criteria including: improving gender balance; roundedness of the industry; pride; a sense of ownership and skills development in the local area; innovation; providing a vision for the future; building on any existing programmes fostering teacher development, and having a robust evaluation methodology.
[mappress]
Press release, July 5, 2013; Image: forewind