Denmark: DONG Fights Weather Conditions During Anholt Wind Turbines' Installation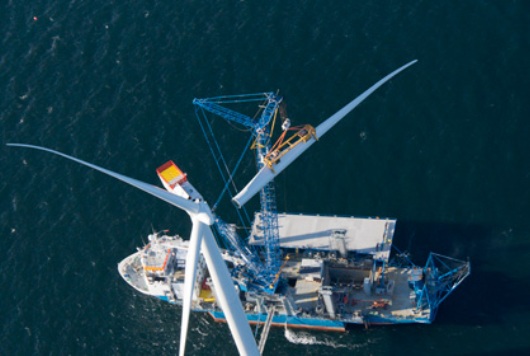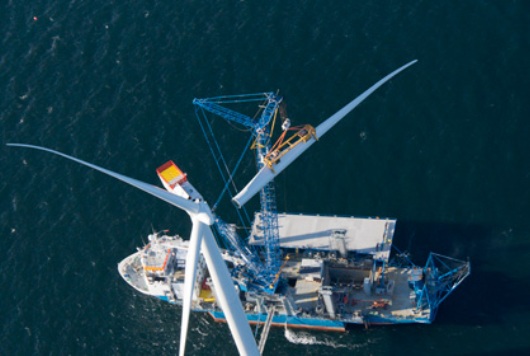 On 3rd September 2012, the first wind turbine was installed at Anholt offshore wind farm, and since then, another nine complete wind turbines have been installed. Consequently, on 5th November 2012, ten complete wind turbines plus one tower, including nacelle, have been installed. Five of these wind turbines have already been connected to the grid and have already produced electricity.
But the weather in the Kattegat is rough. Since the wind turbine installation started on 1st September, bad weather has affected the area, causing a strong breeze and heavy sea. All weather windows enabling installation have been used optimally, but due to the technical limitations of the installation vessels and safety considerations, the wind and waves have reduced the speed of installation.
To utilise all weather windows, several wind turbines have been installed in two operations as the wind and wave conditions have put a stop to the installation process.
The planning of the installation is based on weather statistics, and so far, the weather has been more challenging than average. However, there have been some periods with fair weather conditions where four complete wind turbines were installed.
Wind and weather rule
The wind turbines in Anholt Offshore Wind Farm are installed by means of special vessels equipped with extendable legs. Some of the vessels are capable of rising above the water surface (jack-up), whereas others can rise only sufficiently in the water to make the legs stand safely at the seabed, and so that it is possible to work safely with the crane.
However, a number of technical limitations make the vessels very dependent on wind and weather. The installation vessel, Sea Power, which started the installation of the wind turbines in Anholt Offshore Wind Farm, is a first generation installation vessel using the four large legs to rise approximately 1 metre in the water and is thus easily affected by waves.
If the wave height reaches the allowable limit, Sea Power has to stop working, but it also has to leave its position.
The vessels capable of rising above the water surface are not affected by waves and need not leave their position and will therefore be able to continue the installation work faster.
The wind turbines are installed in six lifting operations. First, the two tower sections are lifted into position, then the 195 tonnes heavy nacelle, including hub, and finally the three blades. All installation vessels depend on the wind not to be so severe that the heavy components oscillate.
Therefore, criteria have been set for maximum allowable wind conditions in connection with lifting operations for the various components. With a weight of approximately 18 tonnes and covering a large area, the blades are the components most exposed to the wind at a height of 80 metres.
[mappress]
Press release, November 13, 2012; Image: DONG Energy