Palfinger to Supply 111 Offshore Wind Platform Cranes to Dong Energy (Denmark)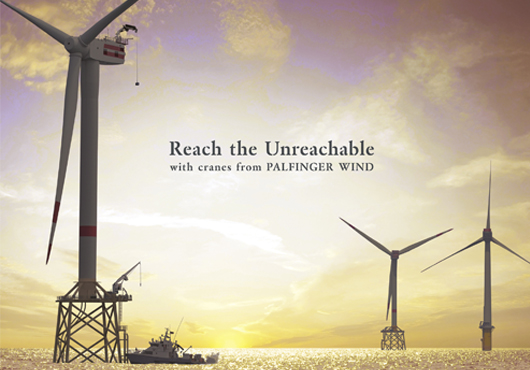 Following the recent order for 48 cranes by REpower Systems SE, PALFINGER WIND is again in the headlines winning a tender for 111 offshore wind platform cranes to be delivered to DONG Energy, Denmarks leading energy company.
Deliveries will already start in January next year for the Anholt Offshore Wind Farm, Denmark's largest offshore wind farm. With a capacity of 400 MW it will be part of a large-scale Danish commitment to the development of eco-friendly and renewable energy.
The cranes supplied by PALFINGER WIND will provide for safe and fast unloading of supply vessels and flexible material handling on the platform. One of the winning factors for this project was the simple, robust and trustworthy design of the PALFINGER crane. "This is an important step for us and once again shows that our full range of platform, nacelle and transformer station cranes offers the perfect solution for any offshore lifting needs" says Thomas Nitsch, managing director at Palfinger Wind.
 About PALFINGER
PALFINGER MARINE is the global marine crane expert for innovative and tailor-made solutions. As a part of the PALFINGER group it covers MARINE, WIND and RESCUE cranes. Today the wind division is the world´s leading manufacturer of onshore and offshore cranes for nacelles, platforms & transformer stations for the wind industry. PALFINGER WIND offers a complete service concept which is backed up by a worldwide service network.
The PALFINGER group is the global leader for lifting, loading and handling solutions since 1932. As a multinational group with headquarters in Salzburg, the company had sales of EUR 650 million in 2010 with a workforce of approx. 5,550.
[mappress]
Source: palfinger, October 14, 2011