TenneT Installs Artificial Reefs at Hollandse Kust West Alpha Offshore Netherlands
The Dutch-German transmission system operator (TSO), TenneT, has placed several artificial reefs at the Hollandse Kust West Alpha offshore transformer platform in the Dutch North Sea.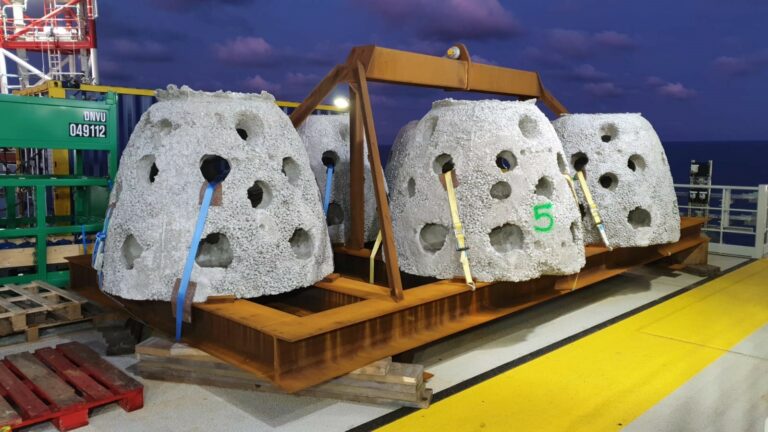 The platform will connect the Ecowende consortium (Shell/Eneco) wind farm to the high-voltage grid.
In collaboration with Equans/Smulders, TenneT placed two types of artificial reefs near the offshore substation jacket to find out which form works best.
The artificial reefs are part of a series of ecological measures by TenneT to monitor and encourage nature around offshore wind farms.
Attached to one frame are six so-called reef cubes. These are hollow square blocks made of nature-friendly recycled material with round holes in the walls, said TenneT.
On the other steel frame are six reef balls, a similar structure but in the shape of a ball.
"The purpose of the trial is to investigate which shape – ball or cube – works best in the waters off our coast. The hollows provide protection for young fish, but are also intended to increase the structure's bonding surface. In this way, we hope to provide a suitable place for numerous other animal and plant species in addition to juvenile fish, crabs and lobsters," said Annemiek Hermans, marine biologist at TenneT.
"These artificial reef structures are meant to stimulate marine life. With these, you create potential spots where coral and algae settle. Earlier research shows that fish, crabs and lobsters like to visit these spots for shelter and to look for food."
According to Hermans, visible differences are not expected for another three years or so.
"Until then, we monitor annually whether the diversity of life forms around the artificial reefs and fish hotels increases," Hermans said.
The topside for TenneT's Hollandse Kust West Alpha offshore substation was installed at its site some 50 kilometres off the coast of Egmond aan Zee in the Netherlands in September.
A year earlier, DEME's vessel Orion installed the 2,300-tonne jacket foundation for the platform. The offshore substation will be fully commissioned in 2024 when it will be able to connect 700 MW of offshore wind capacity to the Dutch grid.

ADVERTISE ON OFFSHOREWIND.BIZ
Get in front of your target audience in one move! OffshoreWIND.biz is read by thousands of offshore wind professionals daily.
Follow offshoreWIND.biz on: