Maryland Lawmakers Pass Offshore Wind Bill, State Targets 8.5 GW by 2031
The Maryland General Assembly has passed a bill that sets the state on the path towards having 8.5 GW of offshore wind capacity in its energy mix by 2031. The bill, approved on 10 April, also establishes an approach to building offshore wind transmission infrastructure similar to that which New Jersey is employing and sets out requirements for job creation and utilising the local supply chain.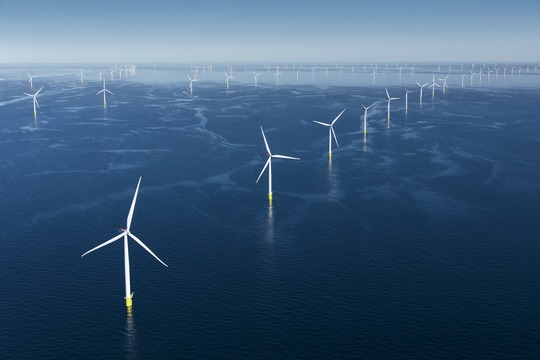 The bill (SB0781) Promoting Offshore Wind Energy Resources Act, sponsored by Senators Katie Fry Hester, Brian J. Feldman and Benjamin Brooks, started its journey through the legislature at the beginning of this year.
To be enacted into law, the Promoting Offshore Wind Energy Resources Act now needs to be signed by Maryland's Governor Wes Moore, who revealed the state's offshore wind target at the end of March at the International Offshore Wind Partnering Forum (IPF) in Baltimore.
According to the now-approved bill, which will go into effect on 1 June if signed by the governor, Maryland aims to reach 8.5 GW of offshore wind capacity a few years earlier, by 2031.
Under the Promoting Offshore Wind Energy Resources Act, the state will issue "sufficient wind energy leases in the central Atlantic region" to secure further offshore wind capacity to reach 8.5 GW (Maryland has already procured 2 GW of offshore wind projects) and upgrade and expand the transmission system to accommodate the buildout of this capacity.
With regard to the transmission system, the bill requires the state's Public Service Commission (PSC), in consultation with the Maryland Energy Administration (MEA), to request that PJM Interconnection conduct an analysis of the system's upgrade and expansion options that take into consideration both onshore and offshore infrastructure.
Furthermore, PSC is instructed to consult with other states served by PJM to evaluate regional transmission cooperation. This approach is being employed by New Jersey, the first US state to use State Agreement Approach and align its offshore wind transmission goals with its regional grid operator's planning process.
The Promoting Offshore Wind Energy Resources Act will enable PSC to enter into agreements with PJM for transmission planning and for the solicitation of offshore wind transmission projects.
Under the new bill, PSC must issue, or request that PJM issue, one or more competitive offshore wind transmission solicitations by 1 July 2025, with further solicitations after that date if the Public Service Commission determines that it is necessary.
The bill also requires developers to enter into one or more agreements with labour organisations and to maximise the use of skilled local workforce, particularly in the construction and manufacturing of projects' components.
Developers will also be asked to provide plans to use domestic iron, steel, and manufactured goods to the greatest extent practicable, as well as locally and domestically manufactured construction materials and components.
Maryland currently has four projects with a total capacity of approximately 2 GW approved.
In 2017, the Maryland Public Service Commission (PSC) awarded offshore renewable energy credits (ORECs) to US Wind's and Ørsted's 248 MW MarWin and 120 MW Skipjack 1 projects. In 2021, the two developers won ORECs for their 808.5 MW Momentum Wind (US Wind) and 846 MW Skipjack Wind 2 (Ørsted) offshore wind farms.
Last year, the US Bureau of Ocean Energy Management (BOEM) initiated the federal permitting process for the projects at US Wind's offshore wind lease area.

ADVERTISE ON OFFSHOREWIND.BIZ
Get in front of your target audience in one move! OffshoreWIND.biz is read by thousands of offshore wind professionals daily.
Follow offshoreWIND.biz on: