New Jersey Picks Offshore Wind Transmission Project Proposed by Shell, EDF and JCP&L
The New Jersey Board of Public Utilities (NJBPU) has selected an offshore wind transmission project proposed by Mid-Atlantic Offshore Development, a joint venture of EDF Renewables-North America and Shell New Energies US, and Jersey Central Power & Light (JCP&L) Company.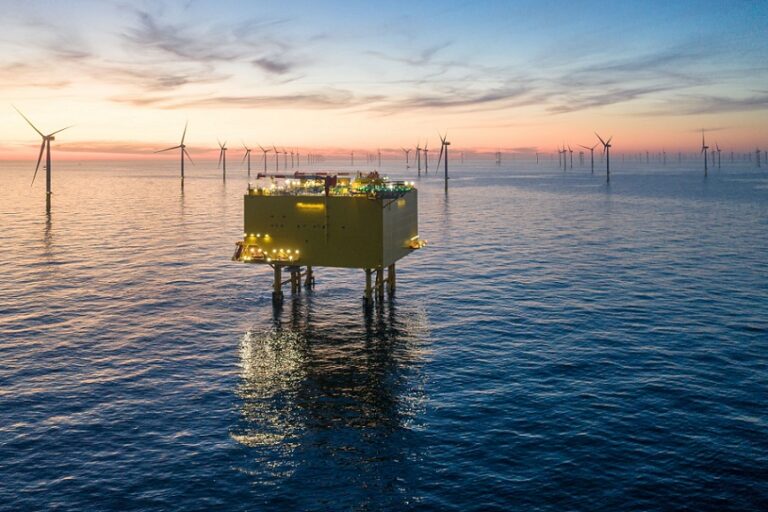 Offshore infrastructure to be built by Shell and EDF Renewables, power delivered to JCP&L's grid
Shell and EDF Renewables also developing the Atlantic Shores offshore wind farms
The project, called the Larrabee Tri-Collector Solution (LTCS), is estimated to cost USD 504 million. The necessary onshore grid upgrade projects are estimated to cost USD 568 million, for a total of USD 1.07 billion for the full LTCS.
The NJBPU awarded onshore grid upgrade projects to Atlantic City Electric, BGE, LS Power, PECO, PPL, PSE&G, and Transource.
According to information available on JCP&L's website, the offshore transmission solution involves new offshore transmission infrastructure built by Mid-Atlantic Offshore Development, with JCP&L then carrying the electricity to existing substations, where it will enter the grid.
Under the proposal, 100 per cent of JCP&L's transmission involvement would utilise existing infrastructure or rights-of-way, resulting in no greenfield development. JCP&L's solution will be implemented over a period of eight years to align with the planned schedule for offshore wind procurements.
In its press release announcing the selected projects, the NJBPU said a key component of the decision was to require a successful bidder to New Jersey's third offshore wind generation solicitation to pre-build a single corridor from the shore crossing to the LTCS, which will reduce environmental impact, community disruption, and permitting risks.
The State's third offshore wind generation solicitation was postponed to Q1 2023 earlier this year to allow for the process of selecting the transmission solution to be completed and the outcome incorporated into the guidance documents for the solicitation of offshore wind projects.
The selected transmission projects are estimated to save New Jersey ratepayers USD 900 million compared to the cost of transmission without utilising this coordinated approach through the State Agreement Approach (SAA).
Under the SAA process, PJM Interconnection designed the transmission solicitation together with NJBPU staff that was issued in April 2021 and closed in September 2021. During the application period, proposals for 80 projects were received from 13 transmission developers.
The coordinated transmission solution will minimise cost and other impacts while supporting the continued expansion of offshore wind energy in the state, the NJBPU emphasised.
The projects selected now were determined to best meet the goals of the SAA solicitation and will result in a more efficient and cost-effective means of achieving 7.5 GW of offshore wind generation capacity by 2035, the State's offshore wind goal at the time of launching the solicitation.
Since then, New Jersey has increased its offshore wind target, replacing the 2035 ambition with 11 GW by 2040.
The NJBPU said that it had directed its staff to begin necessary preliminary steps to support a future SAA solicitation, to enable the transmission of New Jersey's new and expanded goal of 11 GW by 2040, and to continue its engagement with other states, regional grid operators, and other stakeholders regarding a regional approach to offshore wind transmission.
New Jersey is the first US state to fully align its offshore wind transmission goals with its regional grid operator's planning process, and the projects selected now represent the first-of-its-kind coordinated transmission solution to get offshore wind-generated energy to the New Jersey grid.
As for Shell and EDF Renewables, the companies are already involved in New Jersey's offshore wind sector as they hold development rights for an offshore wind zone located some 14 to 32 kilometres off the New Jersey coast, between Barnegat Light and Atlantic City, through their Atlantic Shores Offshore Wind joint venture.
The lease area can accommodate more than 3 GW of offshore wind capacity, according to Atlantic Shores.
Back in June 2021, the New Jersey Board of Public Utilities (NJBPU) awarded Atlantic Shores with 1,510 MW of offshore wind capacity as part of the State's second offshore wind solicitation.
A few months later, the Bureau of Ocean Energy Management (BOEM) started an environmental review of two of the joint venture's projects proposed to built offshore New Jersey: Atlantic Shores Offshore Wind Project 1, which was already selected by the NJBPU, and Atlantic Shores Offshore Wind Project 2, which EDF Renewables and Shell are developing to support the future offshore wind generation solicitations in New Jersey.
This year, the Shell-EDF Renewables partnership was also announced as one of the provisional winners in the record-breaking lease sale in the New York Bight.
Follow offshoreWIND.biz on: