TotalEnergies, Rise Reveal Plans for Offshore Wind Port Investments in New York
Shortly after the news that their proposed 1.4 GW offshore wind project in New York could bring over USD 25 billion in benefits to the state and a new GE manufacturing facility, TotalEnergies and Rise Light & Power announced plans for two offshore wind port facilities in New York Harbor.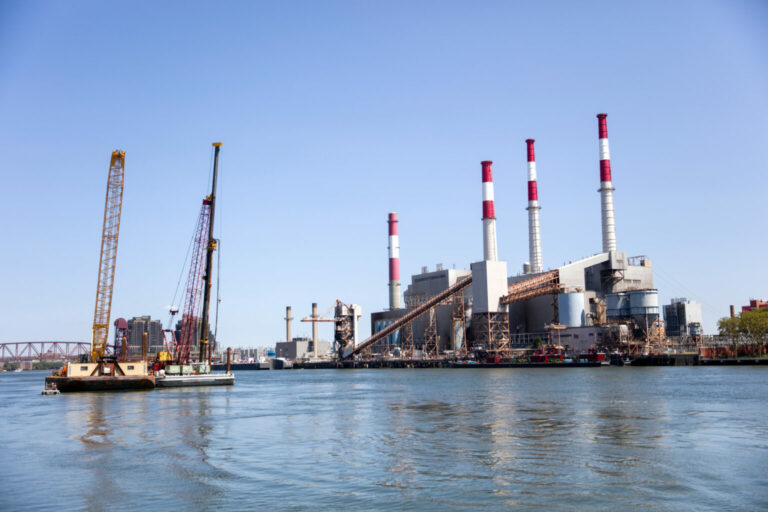 For their Attentive Energy One (AE1) offshore wind farm, the joint venture partners have entered into a lease agreement with Arthur Kill Terminal (AKT) on Staten Island to establish a marshalling site there and also plan to set up an operations and maintenance (O&M) facility at the Ravenswood Generating Station in Queens, owned by Rise.
The two sites could generate USD 400 million in economic activity in New York State, the AE1 developers said.
Subject to being selected in New York's third offshore wind solicitation, the lease agreement with Arthur Kill Terminal will see AE1 serving as a long-term master tenant of the site and assisting in project development.
TotalEnergies and Rise plan to use the AKT site for a wind turbine marshalling facility, located on the Arthur Kill waterway, seaward of the Outerbridge Crossing and outside of all height restrictions.
"Attentive Energy One's ports proposal helps solve future constraints for marshalling and O&M activity in New York City. With deep water access via the Arthur Kill, and no height restrictions, AKT will be the only offshore wind port in New York capable of accommodating future U.S. wind turbine installation vessels and to most efficiently perform transport of fully assembled turbine components", said Damian Bednarz, Managing Director, Attentive Energy.
The marshalling site is estimated to create 435 jobs, with economic opportunities through AKT including hundreds of construction jobs created to build the facility, along with sustained revenue generation and employment for neighbouring communities during decades of offshore wind marshalling operations.
"This proposal continues our island's 400-year maritime tradition and ensures our residents have access to lifelong careers in a burgeoning industry. Staten Island will be a critical part of the region's energy infrastructure and I'm confident that Arthur Kill Terminal, Attentive Energy and their associates will be strong partners in all our future growth", said Joe Borelli, Minority Leader of the New York City Council.
This would not be the only investment on Staten Island for AE1 partners, as their project proposal filed in the offshore wind solicitation also includes USD 1 million in funding for the College of Staten Island to bolster its offering of offshore wind and renewable energy training through its Continuing Education department, including Global Wind Organization (GWO) certificate programs, according to TotalEnergies and Rise Light & Power.
In Queens, the developers plan to establish a permanent O&M Hub at the Rise-owned Ravenswood Generating Station, which is New York City's largest fossil-generating facility. The O&M Hub will repurpose the site's existing waterfront to provide a just transition for the facility's UWUA Local 1-2 workforce, equipping them to operate the AE1 project for decades to come, the joint venture said.
The O&M Hub will comprise control rooms, training facilities, and warehousing for the AE1 project, and will see an upgrade of nearly 1,000 feet (approx. 305 metres) of existing quayside to allow for docking, vessel operations, and crew transfer activities for offshore wind operations.
"Our facilities at Ravenswood have powered New York for over 60 years and have provided good union jobs for many hundreds of employees during that time", said Clint Plummer, CEO of Rise Light & Power. "These landmark investments in New York City's working waterfront will ensure that high-quality jobs are here to stay".
"In order to combat climate change, we must pursue new and innovative ways to transition from fossil fuels to more renewable energy sources", said Congresswoman Nydia Velázquez. "The conversion of Ravenswood Generating Station in Queens – New York City's largest fossil generating facility – to a new Operations & Maintenance Hub for offshore wind will not only generate jobs and boost our economy but also support our climate goals".
According to TotalEnergies and Rise Light & Power, their proposal to build the 1.4 GW offshore wind farm off New York would, if approved, result in USD 25.6 billion in economic activity in New York State.
The developers announced a couple of days ago that one of the cornerstones of their plan for the state is a flagship manufacturing agreement with General Electric (GE) to manufacture offshore wind blades and nacelles at a new Ravena, New York facility. Through the Supply Chain Investment Proposal with GE, AE1 expects to catalyse a supply chain corridor that links upstate manufacturing with downstate project staging, installation, and operations.
Winning projects in the third offshore wind solicitation, run by the New York State Energy Research and Development Authority (NYSERDA), are expected to be announced this Spring.
According to NYSERDA, the solicitation has attracted more than 100 total proposals for eight new projects from six offshore wind developers, including Ørsted and Eversource, Equinor and BP, RWE and National Grid, Invenergy and energyRe, TotalEnergies and Rise Light & Power, and Vineyard Offshore.
Attentive Energy LLC secured the second most expensive lease site in the record-breaking New York Bight seabed lease auction, held last year.
At the time, Attentive Energy was a joint venture company owned by TotalEnergies and EnBW. However, EnBW later decided to exit the US offshore wind market, with TotalEnergies acquiring the German company's US entity and its assets.

ADVERTISE ON OFFSHOREWIND.BIZ
Get in front of your target audience in one move! OffshoreWIND.biz is read by thousands of offshore wind professionals daily.
Follow offshoreWIND.biz on: