Developer Says Offshore Wind Project Could Bring USD 25+ Billion in Benefits to US State
Attentive Energy One (AE1), a joint venture of TotalEnergies and Rise Light & Power, said that its proposal to build an offshore wind farm off New York would, if approved, result in USD 25.6 billion in benefits to New York State.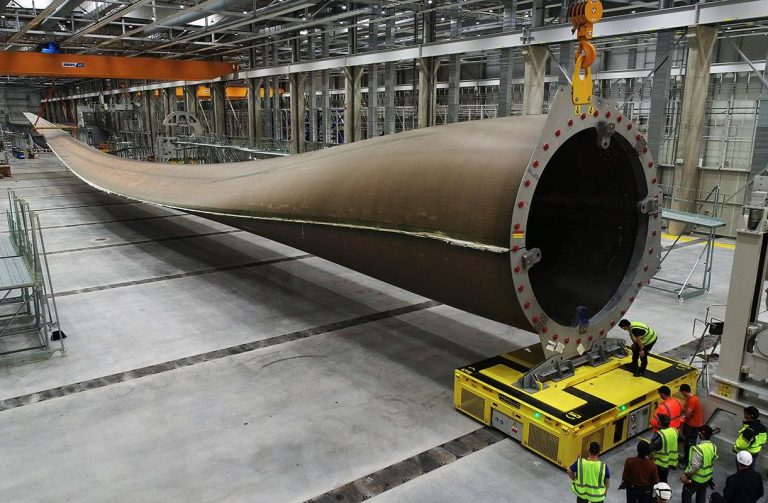 One of the cornerstones of its plans is a flagship manufacturing agreement with General Electric (GE), located at the Port of Coeymans, in the Capital Region.
Through a Supply Chain Investment Proposal with GE to manufacture offshore wind blades and nacelles at a new Ravena, New York facility, AE1 expects to catalyze a supply chain corridor that links upstate manufacturing with downstate project staging, installation, and operations.
This new GE facility would be placed on an existing, modern port, with state-of-the-art technology and equipment supported by an extensive array of operators already working in the port, and an experienced local labor force, the developer said.
The port will host two wind turbine component manufacturing facilities: one for blades – coined the LM Wind Power blade facility – with the potential to create over 650 direct jobs, 900 indirect jobs, and 550 construction jobs, and one for nacelles – coined the GE Vernova nacelle facility – with the potential to create over 220 direct jobs, 490 indirect jobs, and 510 construction jobs for the region.
AE1 has also announced a community investment program of USD 300 million, which includes USD 19.5 million in targeted funds to diversify and help develop the upstate-downstate supply chain as part of New York State's third offshore wind solicitation.
This includes a grant and loan fund to help small businesses pivot to renewable energy; wraparound support services that reduce barriers to entry for participants in workforce development programs to ensure their success; and a suite of hands-on technical assistance and programs designed with and for diverse and small businesses.
The New York State Supply Chain Development Partnership (the SCDP) is a collaborative initiative between the Long Island-based Institute for Workforce Advancement (IWA), Albany-based Center for Economic Growth (CEG), and the NYC Economic Development Corporation (NYCEDC) to conduct grassroots outreach with a connected strategy across New York State.
Over the next five years, AE1 has committed USD 15 million to the SCDP which will fund representatives from each organization, including new local direct hires to manage the initiative, as they engage at the community level with organizations that represent small and diverse businesses in their respective regions. The representatives will inform and educate about offshore wind opportunities, providing clear timelines for the AE1 Project and filling a key information and technical support gap. Within the USD 15 million committed to the SCDP, AE1 intends to allocate a large portion of those dollars towards establishing a multi-million-dollar community fund as an opportunity for small diverse businesses to apply for grants or short-term loans to support their efforts to ramp up their capabilities to serve the offshore wind market.
"At the heart of the Attentive Energy One project is a commitment to activating a true upstate-downstate supply chain corridor that integrates both existing and new supply chain pathways," said Damian Bednarz, Managing Director of Attentive Energy.
"We're confident that this approach, paired with a flagship manufacturing investment with GE in the Capital Region and our New York State Supply Chain Development Partnership will catalyze economic opportunities and open doors for diverse and small businesses looking to enter the clean energy economy."
AE1 is also committing a total of USD 4.5 million to fund MRV Group's Diversity Equity Inclusion and Justice Clean Energy Exchange (Clean Energy DEIJ Exchange), which will recruit, educate and refer New York residents to supply chain and workforce programs. These funds will also institute a DEIJ Compliance initiative that will provide small/diverse businesses entering the offshore wind supply chain with capacity-building opportunities, networking and pre-qualification support, and connections to prime and subcontractors throughout the State. The funds will also include wraparound services for residents from Disadvantaged Communities across New York State based on three key pillars: a childcare initiative, a database designed to increase access to contracting opportunities for small and diverse businesses, and a youth leadership program that uses sports clinics to teach intergenerational climate education.
"Our wide-ranging supply chain commitments through the Attentive Energy One project demonstrate our commitment to a true just transition," said Clint Plummer, CEO of Rise Light & Power.
"Targeted investments in workforce development, capacity building, and financial assistance to help diverse businesses pivot to meet the needs of the new green economy ensures a broad group of New Yorkers can participate in this industry."

ADVERTISE ON OFFSHOREWIND.BIZ
Get in front of your target audience in one move! OffshoreWIND.biz is read by thousands of offshore wind professionals daily.
Follow offshoreWIND.biz on: