Scotland Has 40+ GW of Offshore Wind in the Books; Draft Energy Strategy Votes Against Nuclear as Offshore Wind Proves to Be Cheaper
Scotland has 38 GW of offshore wind in its potential pipeline. When added to projects in operation, under construction and awaiting construction, this climbs to over 40 GW, the equivalent to producing enough electricity annually to power every home in Scotland for 17 years, or every home in the UK for over a year and a half.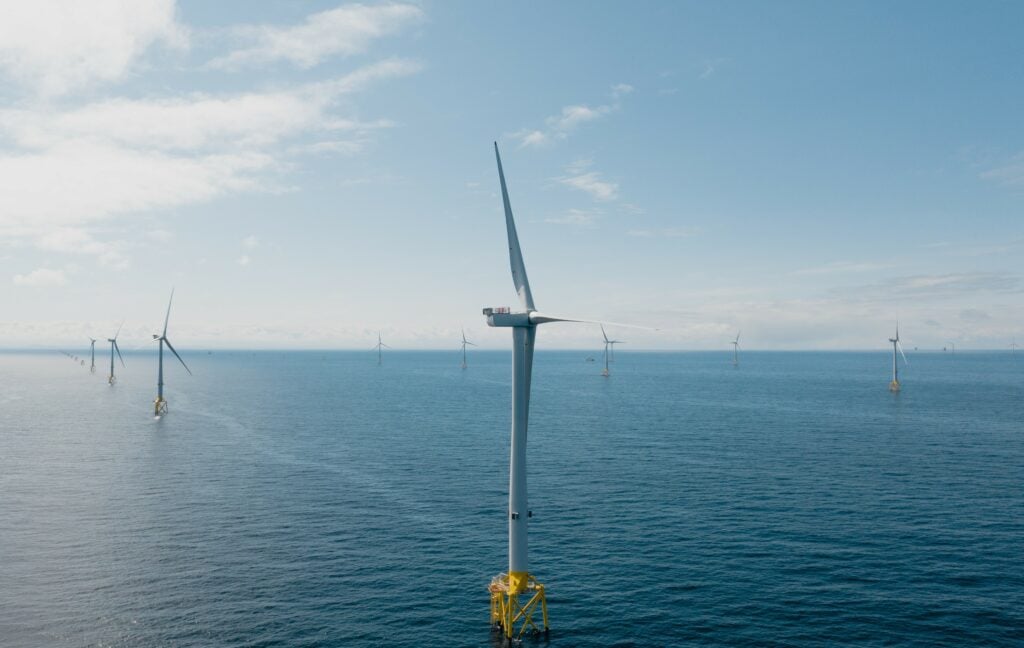 In this article:
Scottish government bets on offshore wind, other renewables and hydrogen, fossil fuels and nuclear a no
Subsea interconnectors to bring more export opportunities
Iterative Plan Review (IPR) process of the Sectoral Marine Plan to bring more clarity on how much offshore wind can go into development
This is according to the draft Energy Strategy and Just Transition Plan issued on 10 January, in which Scottish government puts offshore wind in one of the key roles for decarbonising Scotland's energy demand and securing a just transition to net zero, thanks to it being one of the cheapest forms of electricity.
In the strategy, whose main focus is on moving away from fossil fuels and towards renewables by enabling and supporting clean energy projects, the government emphasised the current price of offshore wind, most notably in comparison with nuclear, which the government is opposed to.
"We do not support the building of new nuclear power plants, which due to the high costs of nuclear, as well as taking decades to build, will do nothing to address the urgent imperative of driving down energy prices", the Scottish government says, taking the Hinkley C nuclear project as an example, whose GBP 92.50/MWh are much higher than the current GBP 37.65/MWh for offshore wind.
Offshore wind costs have fallen by 70 per cent since the introduction of the first Contract for Difference (CfD) round in the UK in 2015, from GBP 114/MWh to GBP 37/MWh, the government noted further in the document.
The draft strategy is also setting out a potential path towards accelerated reduction of reliance on fossil fuels, primarily oil and gas, and includes the possibility of minimising oil and gas production and putting an end to new oil and gas exploration in the North Sea. (Read more about this on our sibling news site Offshore Energy.)
The government also wants to make sure that jobs in the oil and gas sector are not lost amid the accelerated transition to renewables and clean fuels. According to the new strategy, offshore wind build-out can also ensure the creation of thousands of jobs in Scotland and especially for people working in the offshore oil and gas sector, securing a just transition along with other clean fuel and energy sources the government highlights, such as green hydrogen.
In the draft strategy, the Scottish government sets a goal of an additional 20 GW of renewable electricity capacity and 5 GW hydrogen production, as well as substantial growth in marine and solar capacity by 2030.
By that time, the government aims for the total electricity produced in Scotland over the course of a year to allow for further export of electricity and opening up the opportunities of renewable hydrogen production for both domestic use and for export, which will contribute to economic growth, jobs and investment.
The overarching aim of the new energy plan is to make Scotland a renewable powerhouse, exporting renewable hydrogen and electricity to support decarbonisation in Europe as part of an integrated system with the rest of Europe, similar as the goals of the recently published 'independence paper', where offshore wind is also one of the key players in Scotland's energy mix and economy.
40+ GW of Offshore Wind and Big Export Opportunities with Newly Approved Subsea Links
Current offshore wind pipeline in Scotland, which already has 1.8 GW in operation, comprises 3.8 GW of projects consented or under construction and 4.2 GW of projects with lease options secured ahead of ScotWind leasing results.
Looking at the pipeline of potential build-out, with ScotWind, the world's largest floating and offshore wind leasing round, Scotland could secure more than double its overall renewable energy generation capacity currently in operation, as the projects selected through this leasing round could deliver up to 27.6 GW of capacity.
On top of all this, Scotland is also in the process of procuring a potential further 5.7 GW of new offshore wind projects through the INTOG leasing round, targeting oil and gas decarbonisation and further potential 500 MW of offshore wind innovation projects.
"This means that, subject to planning and consenting decisions and finding a route to market, we have a current reported potential pipeline (subject to change) of over 40GW of offshore wind projects – the equivalent to producing enough electricity annually to power every home in Scotland for 17 years or every home in the UK for over a year and a half. This growth in renewables will enable Scotland to meet a large proportion of demand through renewables alone, while creating an export opportunity for our surplus", the government says in the draft energy strategy, which has been released for public consultation.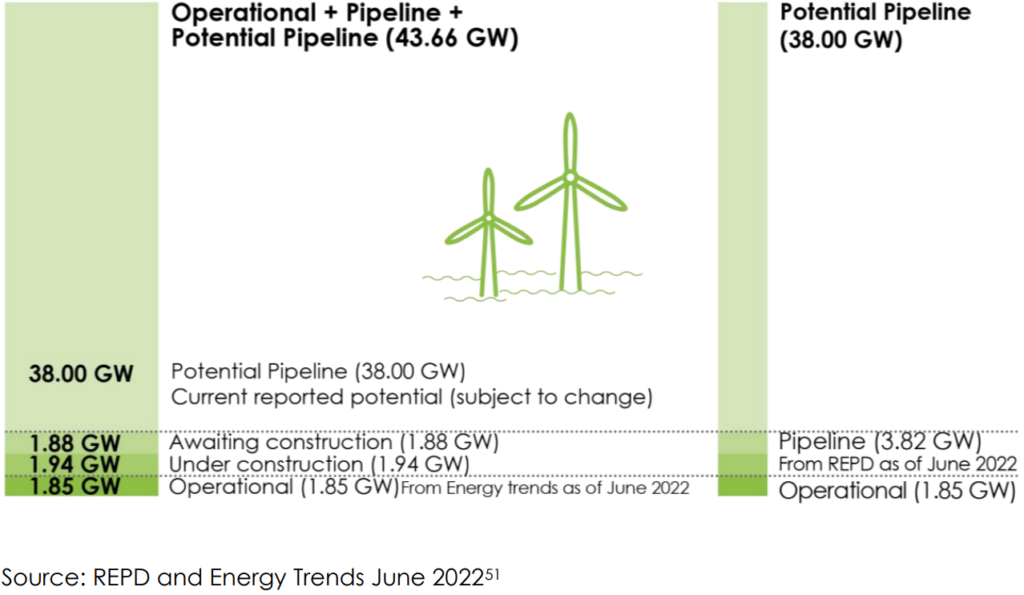 The export opportunities are planned to be facilitated through new subsea connections recently approved by Ofgem, including two 2 GW subsea HVDC links from Peterhead to England and the 1.8 GW transmission link from the Western Isles to the mainland.
The latter is said to also enable the ScotWind projects to export to the UK grid, providing a more cos- effective solution than individual radial connections.
In terms of offshore wind and the draft strategy now put up for consultation, the Scottish government is seeking feedback on new targets and timelines.
Namely, the Offshore Wind Policy Statement, published in 2020, set a target of 8-11 GW of offshore wind in Scotland by 2030. The government is now, through the draft energy strategy consultation, looking to get input on whether it should set an increased ambition for offshore wind deployment and what the level of ambition should be by 2030 and 2045.
"We recognise that this now needs to be reviewed in light of the market ambition expressed in response to the ScotWind leasing round and the associated economic, social, net zero and energy security benefits which could be delivered for Scotland", the government states.
Major Offshore Wind Expansion Still Subject to Environmental Protection and Capacity Feasibility
The draft strategy also sets out actions being taken to balance the impacts of major expansion of offshore wind on marine biodiversity and other sea users.
"The volume of development that can be consented will depend on what is feasible within the bounds of environmental protection regulation, as well as other factors, such as what is technologically achievable within the natural geography of Scotland's seas".
Due to these factors, as well as further consideration of impact of large-scale deployment on stakeholders, and project-related aspects such as time required for grid connection and supply chain capacities, it is not possible to know now exactly what scale of development from offshore wind projects will ultimately be permitted or desirable, according to the government.
"However, there is no doubt that there is significant potential for the generation of electricity surplus to our domestic needs. The current seabed leasing allocations are considered sufficient to meet our short-term ambitions, though we remain open to reviewing scope for future leasing opportunities should evidence become available which suggests this is necessary to support the sustainable growth of the Scottish offshore wind sector", the draft strategy reads.
A clearer picture on the offshore wind expansion will come after the Iterative Plan Review (IPR) process of the Sectoral Marine Plan for Offshore Wind Energy, which will take place in 2023 and will bring conclusions on the scale of offshore wind development which on current evidence will likely be permitted.
Follow offshoreWIND.biz on: