MingYang Launches 16 MW Offshore Wind Turbine
Chinese wind turbine manufacturer MingYang Smart Energy has launched the MySE 16.0-242, said to be the world's largest Hybrid Drive wind turbine with a nameplate capacity of 16 MW.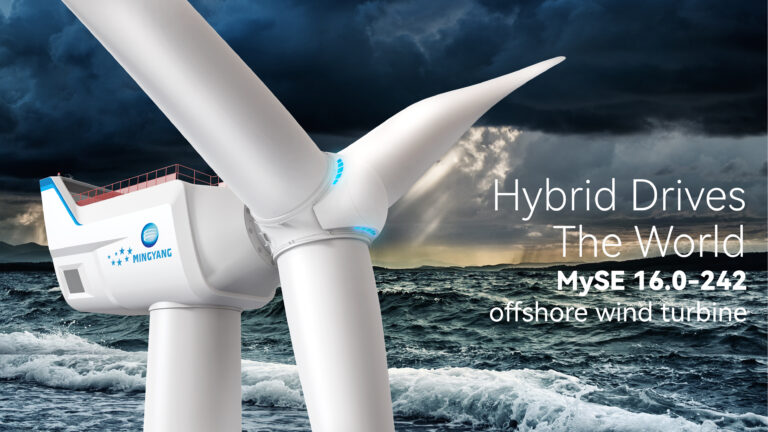 The MySE 16.0-242, which was recently certified by DNV and China General Certification Center(CGC) for design, is scheduled for full prototype rollout in 2022, to be followed by prototype installation in the first half of 2023 and commercial production in the first half of 2024, MingYang said.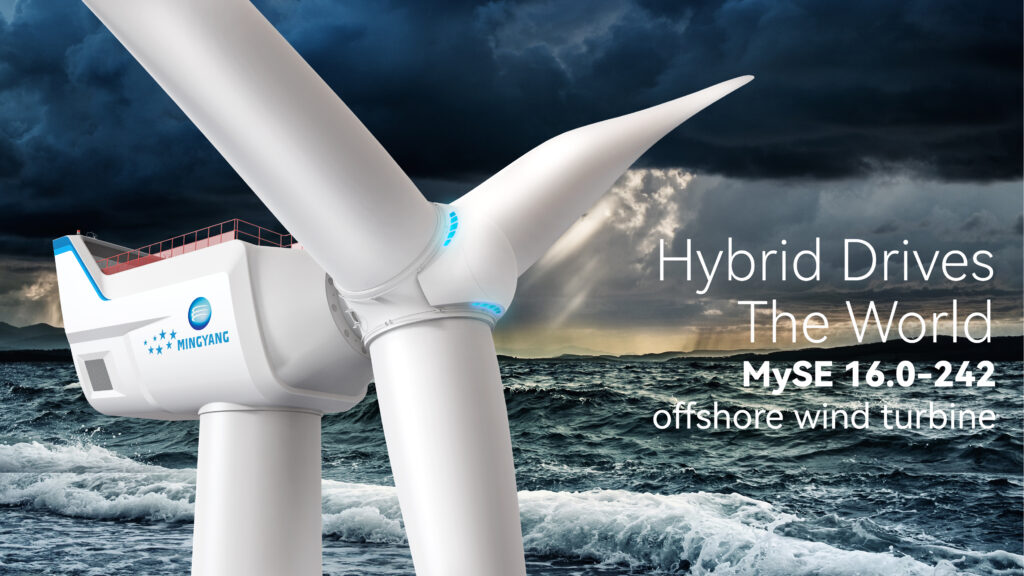 Designed for high-wind IEC IB including typhoon-class IEC TC, the MySE 16.0-242 features a 242-metre diameter rotor, 118-metre long blades, and a 46,000 square metre swept area equivalent to more than six soccer fields.
With the industry's largest rotor and highest nominal rating, a single MySE 16.0-242 turbine can generate 80,000 MWh of electricity every year, enough to power more than 20,000 households, MingYang said.
In comparison, it produces 45 per cent more energy than MingYang's previous turbine model, the MySE 11.0-203.
The MySE 16.0-242 builds on MingYang's understanding and expertise gained over multiple smaller, lightweight offshore models, ranging from 5.5 MW, 6.45 MW, 7.25 MW, 8.3 MW, to 11 MW series.
The nacelle weight of the MySE 16.0-242 is competitively low at less than 37 tonnes per MW, the developer said. Compared to a heavier nacelle, its modest head mass is said to allow for more efficient use of the tower and foundation construction, resulting in fewer purchased materials and logistics.
MingYang's Hybrid-Drive transmission technologies, particularly the medium-speed planetary gearbox with load sharing and forced high precision main bearing lubrication, have been fully optimized and inherited to ensure the robustness and efficiency of this new turbine, as well as deliver excellent economic performance on both bottom-fixed and floating system applications, MingYang said.
In addition, MySE 16.0-242 is said to provide many other distinctive advantages by adopting novel offshore-dedicated features and "best practice" technologies.
As a new feature over previous models, all power electronics and MV-transformer have been relocated up tower into the nacelle, simplifying cabling and enhancing system maintenance convenience.
Secondly, an air-tight design is said to protect the nacelle from harsh salt spray corrosion while yet allowing for internal natural air cooling.
According to MingYang, the MySE 16.0-242 is the start of the company's new 15+MW offshore product platform. In the future, the offering is planned to grow into a portfolio of model variants that can adapt to various offshore settings, ranging from the typhoon-prone South China Sea to the constantly windy North Sea in Europe.
"The launch of our new largest wind turbine, MySE 16.0-242, is an apt illustration of the three essential drivers to technology evolution – demand, combinationand iteration," said Qiying Zhang, President and CTO of Ming Yang Smart Energy.
"In response to demand for anti-typhoon wind turbines in coastal Guangdong, MingYang systematically develops high-quality products by collaborating with global supply chain partners and integrating cutting-edge technologies from industries such as aerospace, materials, and big data. Over the years, we have gained over 10GW cumulative track record and iteration experience with Hybrid-Drive technology. These enable us to have a rapid learning curve in product R&D and position uswell to become an offshore wind leader."