Brittany Companies to Showcase Offshore Wind Prowess at Offshore Energy 22
Companies from the French region of Brittany (Bretagne) will be present at the Offshore Energy Exhibition & Conference in Amsterdam on 29 and 30 November to highlight their expertise and the region's ports' strategic position close to several fixed-bottom and floating offshore wind projects.
Bretagne Ocean Power, accompanied by five Breton companies, will be present at the Offshore Energy Exhibition & Conference at RAI Amsterdam in the Netherlands, a major international meeting place for the offshore industry with 9,000 participants from 82 different countries.
Brittany hopes to highlight Brest's and Lorient's ports and their strategic position close to the seven French offshore wind farms totalling 6 GW, and the next floating wind farms.
The two ports of Brest and Lorient, key players in the industrial logistics of offshore wind projects in Europe, are both located in a protected bay with easy and unlimited access to the open sea, with no air draft restrictions, Bretagne Ocean Power said.
The Port of Brest is described as France's leading ship repair port and includes a freight port and a logistic platform for European sea links.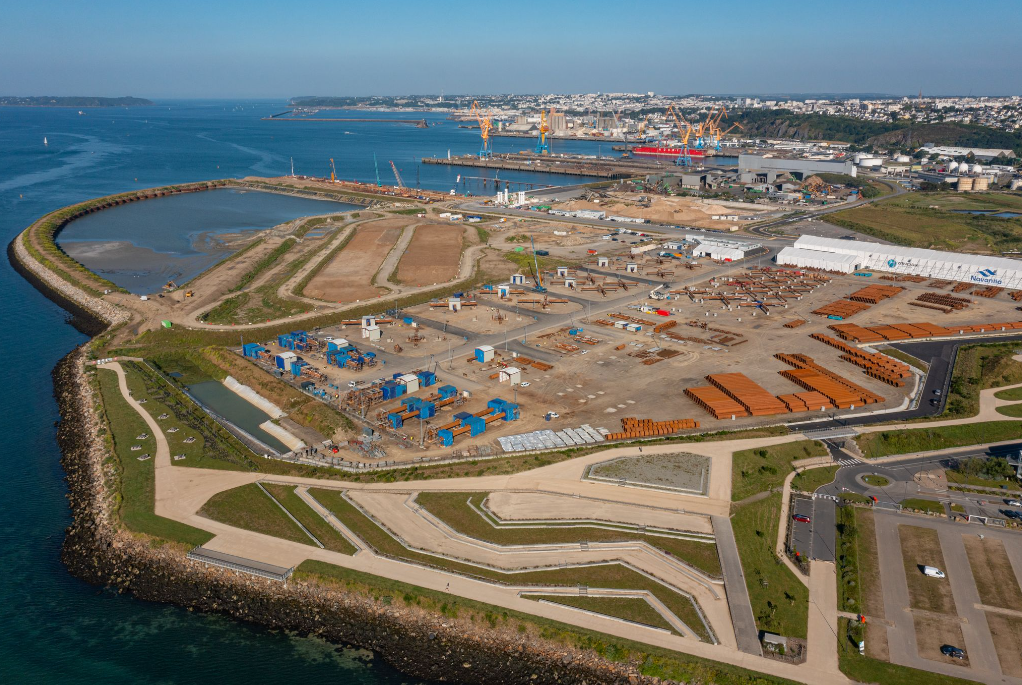 The Offshore Wind Terminal in the port of Brest is a new infrastructure dedicated to large Offshore Wind projects: it includes 40 hectares of industrial land linked to the sea and the transport network and 400 metres of heavy load quay especially dedicated to floating wind turbine logistics.
Located close to the future floating wind farms, the port of Lorient also has a solid logistic hub for the installation and maintenance of offshore wind farms. 2.5 hectares are available for the installation phase, with 800 LM of quay and a 13-metre CD draft. The complex is equipped with a RORO handling and suitable lifting equipment including a 30T crane at 30 metres.
The Breton companies that will be present at the Offshore Energy Exhibition & Conference include Bretagne Ocean Power, a collective dynamic initiated by the Brittany Region to accelerate the development of a regional marine renewable offshore sector; Quiet Oceans a company specialising in underwater noise analysis that has already worked on several high-profile projects including St-Nazaire and Hollandse Kust Zuid; Ship as a service, a one-stop-shop of Maritime services, consultancy and technical assistance, and project management; Piriou, the shipyard that has supplied Crew Transfer Vessels (CTVs) for offshore wind farms for British, Dutch, and German shipowners operating in the North Sea and Taiwan, and is also developing CTVs with hybrid electric and hydrogen propulsion; Gisman, a maritime buoyage specialist that designs and supplies plastic buoys and navigation lights and offers personalised support during the design, installation, and operational maintenance phases of the equipment; and Navantia, a manufacturer of electrical substations and offshore wind turbine foundations, and a pioneer in the construction of floating structures.
Breton companies said they will make the most of these two days to increase their visibility towards key decision-makers and establish international partnerships.

ADVERTISE ON OFFSHOREWIND.BIZ
Get in front of your target audience in one move! OffshoreWIND.biz is read by thousands of offshore wind professionals daily.
Follow offshoreWIND.biz on: