Low Emission CTV Starts Servicing Equinor's UK Offshore Wind Farms
Norway-headquartered Equinor has chartered Seacat Columbia, a new BARTech 30 crew transfer vessel (CTV), from Seacat Services, for operations at its Sheringham Shoal and Dudgeon wind farms offshore Norfolk, England.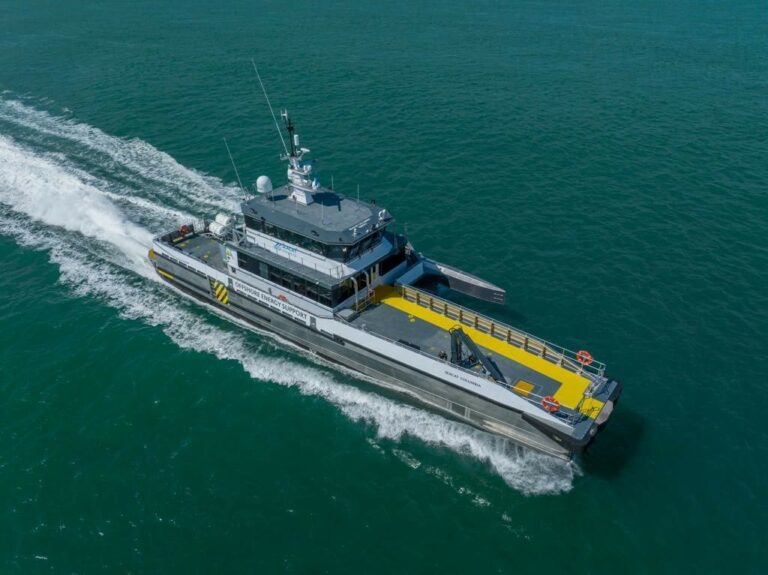 The charter will cover service at the 317 MW Sheringham Shoal and the 402 MW Dudgeon offshore wind farms, both operated by Equinor from its operations and maintenance hub in Great Yarmouth.
Equinor selected Seacat Columbia following a competitive tender due to its capability to reduce fuel use and carbon dioxide emissions, while increasing access to offshore wind farms in harsher sea states, Equinor said.
Seacat Columbia is a UK-designed, built, flagged, owned, and operated CTV, and the contract with Equinor sustained twelve UK jobs.
The vessel was designed by marine engineering consultancy BAR Technologies and was built at Diverse Marine Shipyard on the Isle of Wight.
With its multi-hull 30-metre ProA design and its patented Foil Optimised Stability System (FOSS), the vessel can cut carbon dioxide emissions by up to 1,200 tonnes a year when working on the 24-hour charter operation.
By minimising vessel motion, the CTV can see an average increase in stability across all sea states of up to 70 per cent over a typical operational profile, Equinor said.
This makes the vessel one of the first Low Emission Vehicles (LEVs) serving the UK's growing fleet of offshore wind farms.
Equinor recently applied to the UK's Planning Inspectorate for permission to build extensions to both the Sheringham Shoal and the Dudgeon offshore wind farms after the projects were confirmed by the UK Energy Minister as a 'Pathfinder' project.
'Pathfinder' projects are identified as projects that have the potential to deliver benefits on better coordinated offshore transmission systems in the near-term and provide important learnings for the other parts of the OTNR process.
Both offshore wind farms are being developed after being selected by the Crown Estate in 2018 to progress to the award of rights together with several other extension projects.
The projects will double the capacity of the existing Sheringham Shoal and Dudgeon offshore wind farms to around 1.4 GW in total, providing renewable energy to power an additional 785,000 UK homes.
Follow offshoreWIND.biz on: