Gazelle Moves Forward with Hybrid Modular Floater Design
Gazelle Wind Power has received results from basin model tests that were conducted on its hybrid modular floating offshore wind platform.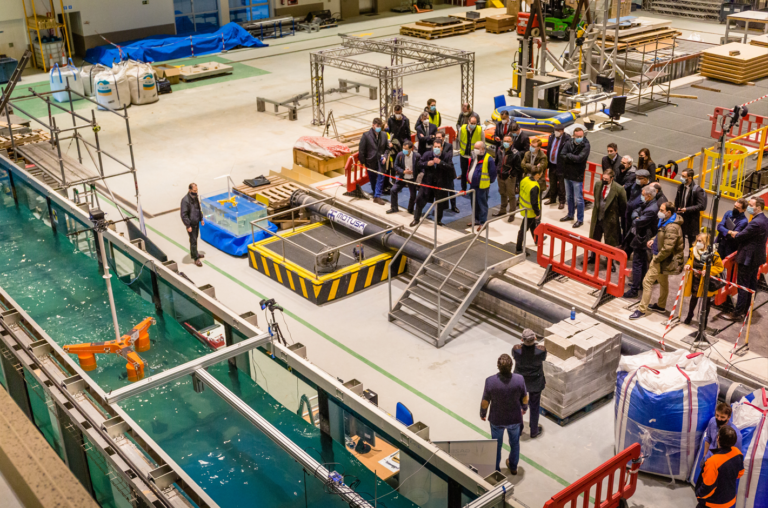 The test report, witnessed by international certification organisation DNV and Safier Ingenierie, verified the feasibility of the platform concept in a wide range of conditions.
A prototype model of Gazelle's platform was analysed through a variety of assessments including surge and yaw excitation tests, wind and wave alone tests, decay tests, and more.
The tests, which were conducted at the Environmental Hydraulics Institute – University of Cantabria facilities in Spain, confirmed the developer's main principles – including the main physical principles behind the platform design.
The tests also reaffirmed that the platform has significantly reduced pitch motions even in extreme conditions, Gazelle said.
The data collected from the various tests will be used to create a benchmarking database which will be the basis of the next phase of the design loop in conjunction with Safier Ingenierie.
The main results from the tests were based on the 10 MW floating offshore wind turbine.
Gazelle recently signed a memorandum of understanding with Ferrofab FZE to establish a Center for Manufacturing Excellence at the Ferrofab Jebel Ali facility in Dubai.
The centre is being established to manufacture a Gazelle hybrid modular offshore wind platform that can be scaled to support any make and model of wind turbines, including models upwards of 20 MW, according to the Dublin-based developer.
Over the past year, Gazelle has been lining partners, to advance the implementation of the company's floating platform system, including MOUs previously signed with VCE, Bridon-Bekaert Ropes Group, and Maersk Supply Service. Gazelle also successfully completed its first-ever crowdfunding campaign and named four additional industry leaders to its board of directors.
Gazelle's hybrid floating wind platform with a dynamic mooring system is said to split the 'two classical functions' of buoyancy and stability for a lighter and more agile platform than current market designs and is said to boast the advantage of faster deployment in deeper waters.
Gazelle plans to install a 2 MW pilot wind turbine at the Oceanic Platform of the Canary Islands (PLOCAN) test site offshore Spain in the second quarter of 2023.
Follow offshoreWIND.biz on: