Japan's Shimizu Corporation has launched and named the 142-metre Self-Elevating Platform (SEP) vessel, Blue Wind, at Japan Marine United Corporation's JMU Amtech in Aioi City.
The jack-up has a total width of 50 metres, a total length of 142 metres, a total tonnage of 28,000t, a maximum lifting capacity of 2,500t for a crane, and a maximum lifting height of 158 metres.
The vessel can operate in depths of between 10 and 65 metres, and is capable of loading, transporting, and installing seven 8 MW, or three 12 MW wind turbines at a time.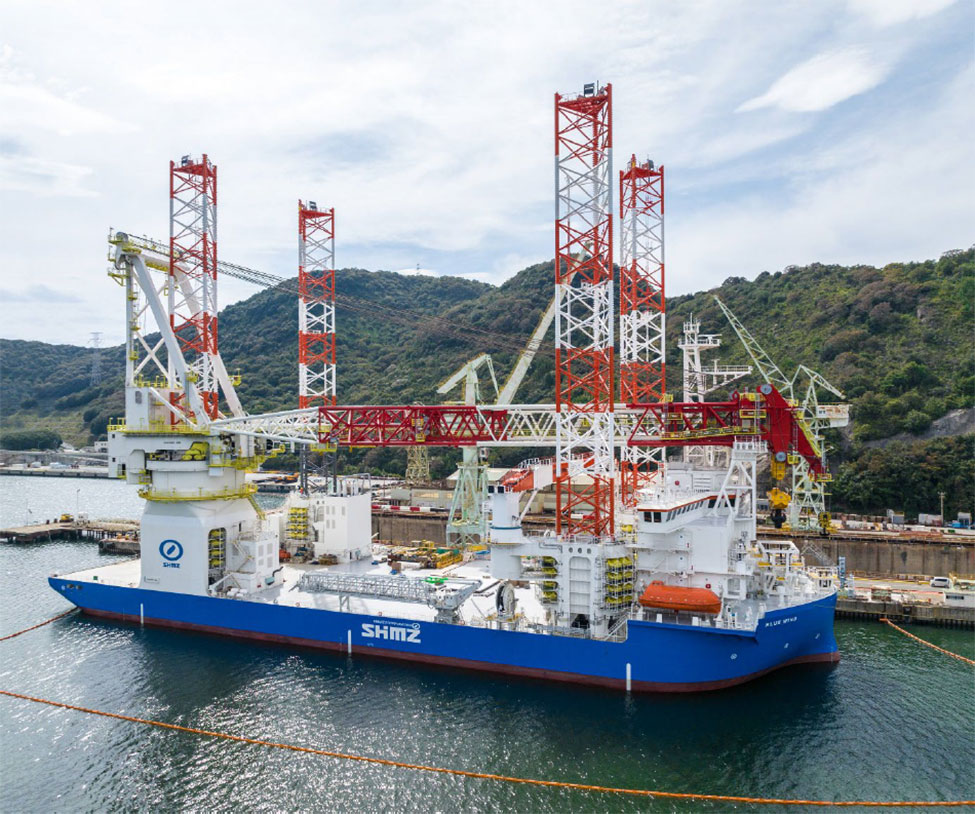 Shimizu Corporation said that the company has invested approximately JPY 50 billion (EUR 345 million) to build the vessel.
Blue Wind has now set sail to undergo about four months of tests and trials off Shikoku prior to starting her first project off the coast of Japan in March 2023, Shimitzu Corporation said.
Japan Marine United Corporation is in charge of the detailed design and construction of the vessel.
The Netherlands-based GustoMSC has provided conceptual and basic designs for the vessel, as well as the design of the jacking system and the crane. GustoMSC has also delivered the jacking system and the crane.
The first project Blue Wind will work on is the 9 MW Nyuzen wind farm offshore Nyuzen Town, Shimoniikawa District, Toyama Prefecture. There, the jack-up will transport and install three 3 MW wind turbines which are scheduled to be operational by August 2023.
The vessel's second project will be the 112 MW Ishikari Bay offshore wind farm where she will transport and install 14 Siemens Gamesa 8 MW wind turbines expected to be operational by December 2023.
In preparation for the construction of the wind farm, the ship will be outfitted at Muroran Port in June, and preparations will be made for construction to start in July 2023, Shimizu said.
Follow offshoreWIND.biz on:
Photo: Shimizu Corporation