US and German Firms Unveil Jones Act-Compliant Offshore Wind Farm Installation Solution
A consortium led by Germany-based ONP Management and US-based Renewable Resources International has developed a Jones Act-compliant transport and installation vessel solution, named Feederdock, dedicated to addressing the US market.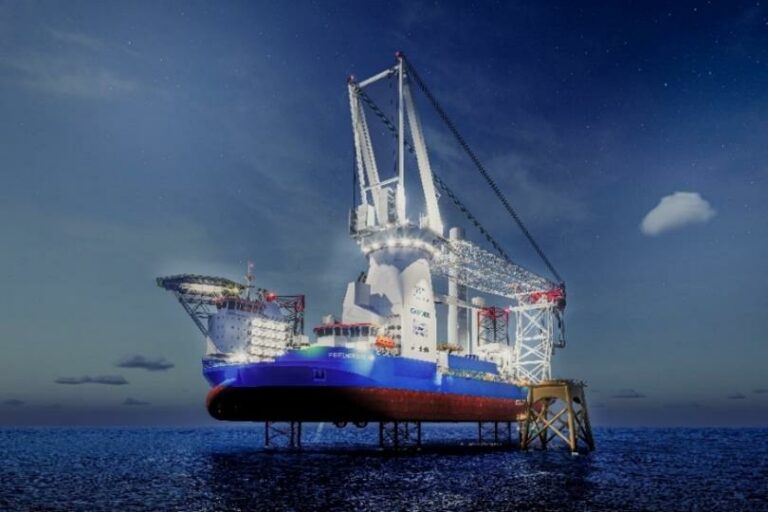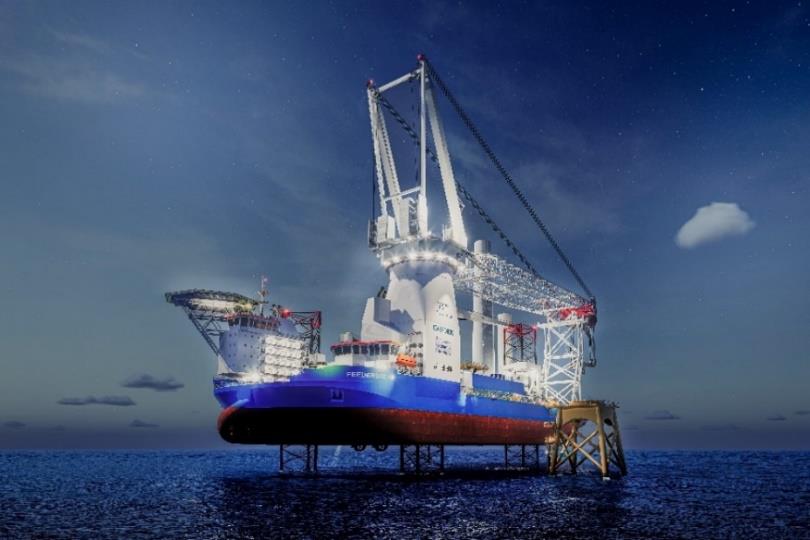 The Feederdock, which is based around a U-shaped crane vessel that can dock Jones Act Articulated Tug Barges (ATBs) before jacking up, features a 3,000-tonne crane that has a maximum hook height of 182 metres.
"This unique arrangement avoids challenging "floating-to-fixed" component transfers at sea by enabling a secure "fixed-to-fixed" turbine installation process which is preferred by the leading wind turbine manufacturers", according to the partners.
The vessel will be able to install 25 MW wind turbines, including foundations of up to 2,800 tonnes, in water depths of up to 70 metres.
"FEEDERDOCK addresses several developer challenges: The solution allows full port flexibility, enables local content sourcing, as the feeders can reach facilities behind bridges, and provides significant productivity advantages by shortening installation campaigns", said Andy Geissbuehler, Managing Partner at Renewable Resources International.
Tractebel Overdick, a naval architects group and specialist for the design of heavy lift jack-up vessels, developed the complete design and engineering package of the Feederdock main vessel, from the initial concept design throughout the basic design phase.
According to the consortium, Feederdock will activate exceptional time and cost savings for the developers' offshore installation campaigns. The partners said that project-specific modelling has validated productivity advantages greater than 25 per cent compared to alternative "floating-to-fixed" concepts.
The American Bureau of Shipping (ABS) is "accompanying" the project to review and class the vessel in the run-up to launch, having awarded the concept with its Approval in Principle (AIP) in 2020.
The vessel construction works is planned to commence in 2023 while Feederdock is scheduled to be ready for operations in US waters in 2026 when it will be operated by Bremen-based Atheleon, formerly known as SAL Renewables and part of the Harren Group.
"We believe that the fixed-to-fixed feeder concept will provide developers a significant competitive advantage and we are well prepared to add the three Jones Act Articulated Tug Barges (ATBs) to our US operations and to operate the FEEDERDOCK heavy lift jack-up installation vessel long-term", said Heiko Felderhoff, Managing Director at Atheleon.
There is currently one wind turbine installation vessel (WTIV) under construction for the US market, named Charybdis, which has already been chartered by developers for construction campaigns on the Revolution Wind and Sunrise Wind offshore wind projects as well as for Dominion Energy's 2.6 GW Coastal Virginia Offshore Wind (CVOW) project off the coast of Virginia Beach.
Follow offshoreWIND.biz on:
NOTE: The original article has been amended.