World's First Offshore Green Hydrogen Production Platform Launched in France
French waters offshore Saint-Nazaire are buzzing with inaugural activity today (22 September) as the country's first offshore wind farm was officially put into operation and, in a separate event, the world's first offshore green hydrogen production platform was launched.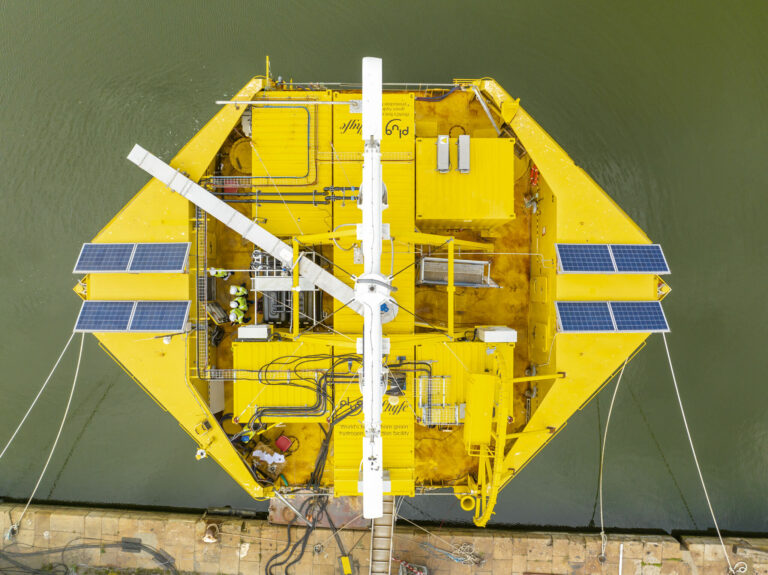 As reported earlier today, French President Emmanuel Macron arrived at the Saint-Nazaire project site this morning to inaugurate the first commercial-scale offshore wind farm in France.
Meanwhile, in the Port of Saint-Nazaire, French hydrogen technology developer Lhyfe inaugurated its offshore hydrogen production platform that is part of a pilot project at the SEM-REV test site, managed by Centrale Nantes.
The platform, developed by Lhyfe and powered by electricity from a floating wind turbine, is the world's first offshore hydrogen production facility.
The electrolyser is installed on GEPS Techno's floating platform and will be connected to the various marine energy sources available on the offshore test site, including the Floatgen floating wind turbine.
The offshore test site meets all the criteria to validate offshore hydrogen production technology before moving towards large-scale industrial deployment in 2024, according to the announcement of the project from last year.
The world's first offshore hydrogen production site was set up by Lhyfe in collaboration with Chantiers de l'Atlantique, which also delivered the offshore substation for the offshore wind farm inaugurated today.
The French company won the EPCI contract for the Saint-Nazaire electrical offshore substation in June 2019 as part of a consortium also comprising GE Grid Solutions and Société de Dragage International (SDI), part of DEME Group.