Construction Progresses at Saint-Brieuc Offshore Wind Farm
Van Oord has installed 24 out of 62 jacket foundations for the 496 MW Saint-Brieuc wind farm offshore France.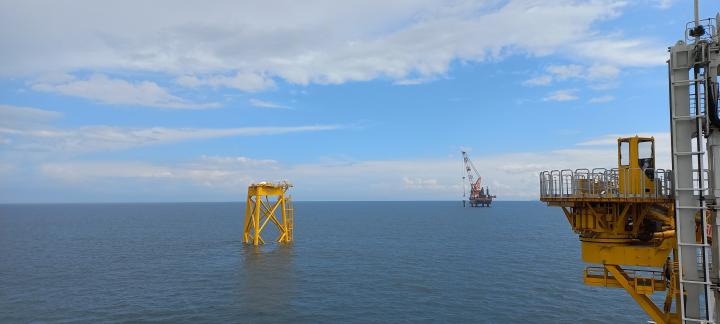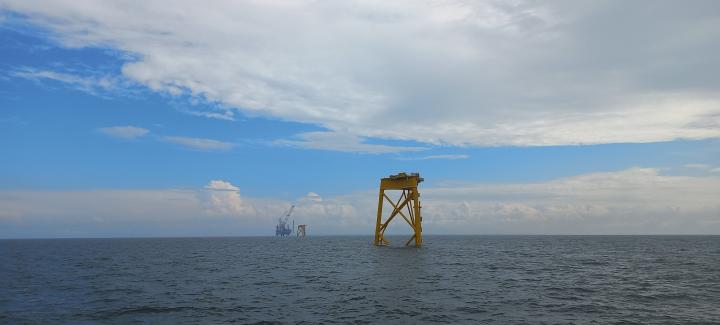 The installation of the jackets started on 1 July, while the first four units were placed on the seabed a few weeks later.
Meanwhile, Van Oord's vessel Aeolus continues with pre-piling work at the remaining foundation locations. To date, almost half of the wind farm foundation locations have been drilled and equipped with piles, with this work expected to continue until 2023.
Due to the hard rocky seabed, an innovative drilling method is being used to install the foundations.
"With its rocky seabed, heavy swell and high tides, it's fair to say that the conditions for building a wind farm off the coast of Saint-Brieuc are challenging", said Ivar Daemen, Project Director.
UK-based Kent is providing the basic and detailed design, fabrication, and installation support for the French offshore wind project.
The foundations, which will support 62 Siemens Gamesa 8 MW wind turbines, are being delivered by the Navantia-Windar consortium, which sent off the first batch in June and has been performing part of its project in Brest, France.
The Saint-Brieuc offshore wind farm is located 16 kilometres off the northwest coast of France in the Bay of Saint-Brieuc in the English Channel.
The project, developed by Iberdrola's wholly-owned subsidiary Ailes Marines, is the first large-scale offshore wind farm in Brittany to obtain all the necessary government permits for its construction and operation.
Once it becomes operational in 2023, the offshore wind farm is expected to generate enough clean energy for 835,000 people.
Follow offshoreWIND.biz on: