MingYang Rolls Out First 12 MW Typhoon-Resistant Offshore Wind Turbine
MingYang Smart Energy has produced its first MySE 12 MW hybrid drive offshore wind turbine at the Guangdong Shanwei manufacturing facility in China. The model has been designed to withstand super typhoons of 78.82 m/s.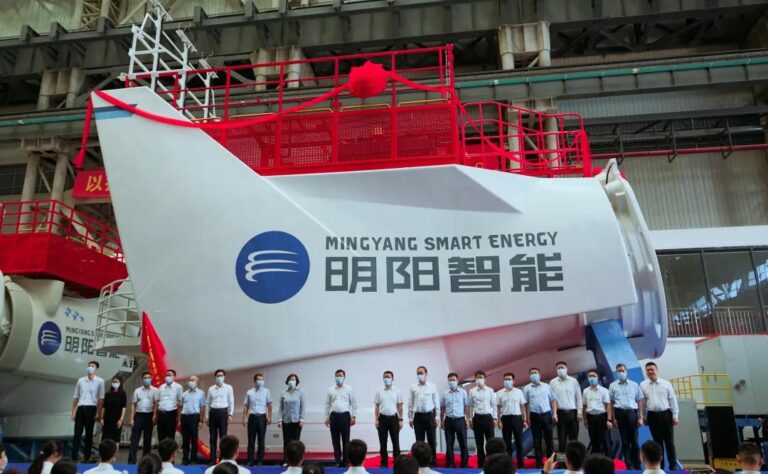 MySE 12 MW, which is certified by the China General Certification Center (CGC) is an upgrade from the 11 MW platform that integrates a variety of innovative technologies for efficient and reliable performance, said MingYang Smart Energy.
The wind turbine's lubrication system is optimized and co-shared by the gearbox and generator while the dual-drive pitch control technology is suitable for all kinds of extreme operation conditions, according to the company.
The multi-sensor wind measuring system of the MySE 12 MW wind turbine is expected to enable intelligent and precise yaw control, lower unit load, and improve power output, whereas the multi-source data system could support faster system failure forecast.
MySE 12 MW wind turbine can be installed in most of China's sea areas, including Fujian and Guangdong provinces, as well as overseas markets such as Europe.
The construction efficiency has been improved by more than 30 per cent with the use of single-blade lifting technology and processing that raises the operating wind speed limit from less than 10 m/s to 15 m/s, MingYang said.
At underrated wind speeds, MySE 12 MW can generate 25 kWh of electricity in a single spin and 45 million kWh of electricity per year, enough to cover the annual electricity demand of 23,000 households while saving 15,000 tonnes of coal and 38,000 tonnes of carbon dioxide emissions.
"The economic case of 12MW wind turbine is strong. Consider a 1GW project comprised of 125 units of 8MW wind turbines, which are the most common offshore model on the market. Switching to MySE 12MW can save 1/3 of wind turbines, 30% of sea area, 24% of foundation cost, 27% of tower cost, and hence 25% of the entire project cost", MingYang said in a press release.
"Overall, one can save 8.6% on costs per kW, 8.3% on LCOE, and improve 7.5% on project IRR".
In 2020, the company introduced the MySE11-203 offshore wind turbine, with a nameplate capacity of 11 MW, and a rotor diameter of 203 metres, that will be installed on the 600 MW Qingzhou 1 and 400 MW Qingzhou 2 wind farms in deep waters offshore Guangdong province.
MingYang Smart Energy also secured a contract for a floating offshore wind project being developed in Northern European waters, for which the company will supply its 11 MW hybrid drive offshore wind model.
In August 2021, the company also launched the MySE 16.0-242, said to be the world's largest hybrid drive wind turbine with a nameplate capacity of 16 MW.
Follow offshoreWIND.biz on: