Chinese Company Plans to Open Offshore Wind Foundation Factory in Europe
Dajin Offshore Heavy Industry, which just announced that it signed a contract for the supply of monopiles for the UK's Moray West project, plans to open a manufacturing facility in Europe that would produce both fixed and floating foundations for offshore wind projects.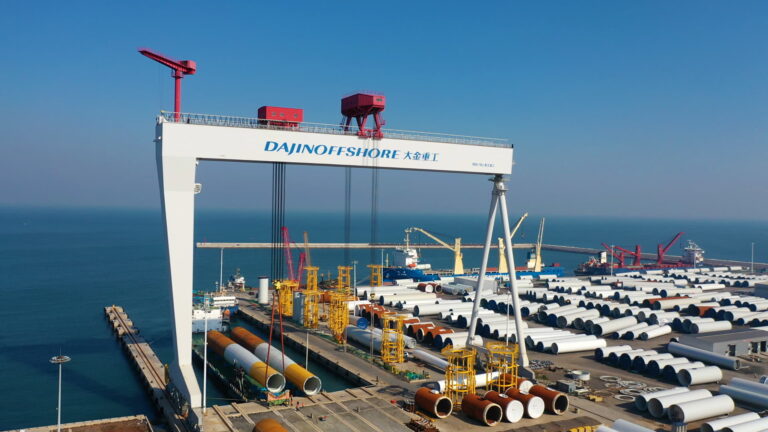 For Ocean Winds' Moray West offshore wind farm, the Chinese company first signed a capacity reservation agreement in December last year, with the firm agreement for 48 monopiles now in place and the first steel already cut.
The company also has another capacity reservation agreement signed for the delivery of monopiles for a project in the European Union, which it did not name, as well as a contract for the supply of offshore structures for a project in the United States, also for an undisclosed client and project.
Given the new contracts, Dajin Offshore Heavy Industry has acquired and is now developing a new fabrication yard in South of China and is planning a foundation facility in Europe.
Both facilities will focus on the production of foundations for the next-generation offshore wind turbines, including XXXL monopiles (3,500-tonne monopiles with a 15-metre diametre and a length of 130 metres) as well jackets and floating foundations.
"Dajin Offshore Heavy Industry is largest offshore foundation fabricator with 1million tonnes per year production capacity in China and expanding with local content contribution investments into Europe", said the company which, after the completion of the two new facilities, will achieve an annual production capacity with 2 million tonnes.
After being awarded the contract for Moray West, for which Dajin Offshore Heavy Industry is using the steel from Chinese Steel Mills, the company said that this was not only a game changer with monopiles reaching almost 2,000 tonnes and 10 metres in diameter, but also "great support for the wind industry suffering from bottlenecks on fabrication capacity compounded with current steel crisis in Europe".
Follow offshoreWIND.biz on: