Iberdrola Breaks Ground on Second O&M Building for Baltic Hub
Spanish energy company Iberdrola has held a ceremony to mark the construction of the second Operations and Maintenance (O&M) building in the port of Sassnitz-Mukran for the Baltic Eagle and Windanker offshore wind farms.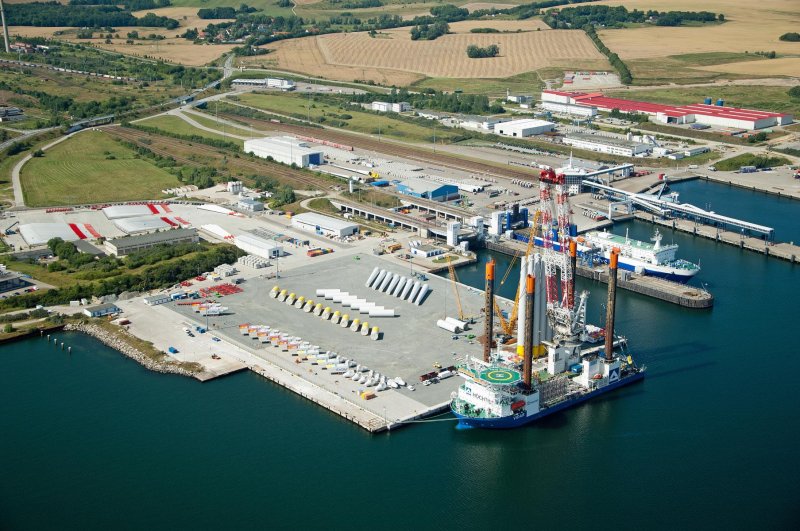 The O&M building is expected to be completed by the end of 2022.
The two offshore wind farms will be operated, monitored, and maintained from the new O&M building, meaning that Iberdrola will operate three of its German projects from Sassnitz on the Island of Rügen, from where the developer is also running its operational Wikinger offshore wind farm.
The "groundbreaking" ceremony was attended by the Secretary of State for Economy, Infrastructure, Tourism, and Labour of Mecklenburg-Western Pomerania Jochen Schulte, and by the mayor of Sassnitz Frank Kracht.
"We feel at home in Sassnitz and Mecklenburg-West Pomerania. With the construction of the second operating building for our Baltic Hub and an average lifespan of offshore wind farms of 25 years, we are committed to the location by the middle of the century and are thus securing valuable jobs in the region." said Iris Stempfle, Managing Director of Iberdrola in Germany.
The construction of the new O&M building means a further step for the long-term commitment of Iberdrola on Rügen and in Mecklenburg-Western Pomerania, according to the developer, which says that it would be supporting the German energy transition at least until 2051 with its three offshore wind farm projects off the island of Rügen.
In August last year, Iberdrola signed a lease agreement with the port of Sassnitz-Mukran for the new O&M base that will serve its 476 MW Baltic Eagle project.
Located 30 kilometres from the island of Rügen in the German Baltic Sea, the wind farm will comprise 50 Vestas 9.5 MW wind turbines and is scheduled to be operational by the end of 2024.
The new building will also serve the 300 MW Windanker offshore wind farm for which Iberdrola exercised its step-in-right to the pre-developed site O-1.3 in November last year.
Windanker will come on stream in 2026 and will be the first offshore project in the German Baltic Sea at market conditions, Iberdrola said.
According to Iberdrola, the Baltic Hub, which includes the Windanker project, the operational Wikinger offshore wind farm, and the Baltic Eagle (currently under construction) could trigger a total investment of around EUR 3.5 billion.
With an installed capacity of over 1.1 GW by 2026, the Baltic Hub is expected to supply over 1.1 million German households with electricity.
Follow offshoreWIND.biz on: